Free Fire is a game with the best battle royale genre that always provides interesting innovations in its gameplay. One thing that makes this game even more exciting is the appearance of the various characters using skin bundles. There is a new skin bundle, namely the Eternal Diamond Free Fire Bundle with the MP40 FF Poker Skin.
As a game with the most number of players, FF has an obligation to maintain the level of excitement of the game. One way is by presenting a skin bundle. With a skin bundle, the appearance of the FF characters becomes even more attractive.
In addition, FF also provides weapon skins that have a similar theme to certain skin bundles. By using weapon skins for a similar skin bundle, it will certainly produce a very attractive appearance. Now for the latest Eternal Diamond skin bundle, there is also a weapon skin. Here's more info.
Also read: Display Pet Update OB23 Free Fire with Gloo Wall FF!
Eternal Diamond Skin Bundle
This skin bundle has just been available on Free Fire from July 17 to July 23, 2020. The Eternal Diamond Bundle can be found on the Hacker Store event page. Through this FF event, of course you want to describe a FF hacker other than Moco.
From its appearance, this bundle makes the character look like a gambling king who represents the green diamond symbol. Of course what is meant by diamond here is a diamond or diamond in green. I don't know how this one bundle looks when played. Because from the appearance it looks a bit tacky huh.
Gun Skin MP40 Poker Eternal Diamond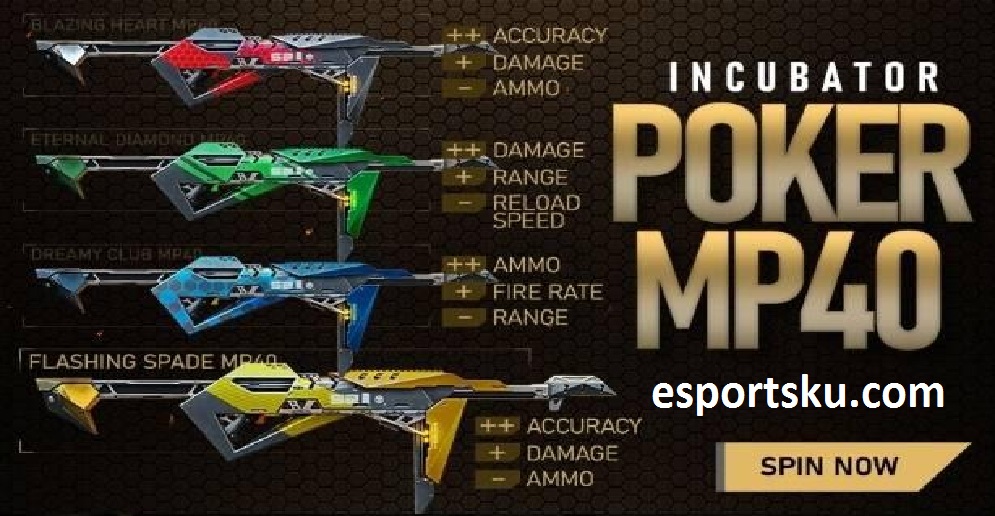 This is the weapon that can maximize the appearance of the Eternal Diamond bundle. This MP40 skin is part of the MP40 Poker incubator, where four skins are available for MP40 weapons by providing different stats points for each weapon.
Like the name Poker, these four skins represent the four symbols in the game of poker, namely spades, hearts, curls, and diamonds or what we usually call tempeh. What distinguishes each symbol is not a special form but only distinguished by color. The green MP40 Poker skin represents Eternal Diamond.
In accordance with the Eternal Diamond bundle, this skin has a total green color that looks like it will look shiny in FF matches. For performance, this skin also increases weapon damage by two points. In addition, the range of weapons has also been increased. So with this skin, MP40 can be a fast weapon with a lethal attack that can be used at a longer distance.
The drawback of this skin on the MP40 is that it reduces the reload speed. By using the MP40 Poker Eternal Diamond weapon skin together with the Eternal Diamond bundle, you can become a dangerous gambling king in FF matches.
Also read: Free Vengeance Free Fire Bundle Pants without FF Code!
That's a brief review of the Eternal Diamond skin bundle and also the MP40 Poker Eternal Diamond weapon skin. Have these two cool items and become a FF player who attracts attention in the match. Thank you and booyah!