Mobile Legends has many players who play it and update it regularly. Almost every month, Mobile Legends issues a new hero, and buffs nerf certain heroes. However, some bugs occurred while patching was being made, and many players were uneasy about the bugs. Here we will discuss about Fixing the Mobile Legends Map Slide Bug in an easy way in ML
Mobile Legends has bugs, some of which are not too big or minor. However, sometimes there are also many bugs that are very annoying when you are playing, such as the bugs that we will discuss this time. Bugs that are said to occur a lot, when you are playing. When you shift the map manually, by pressing the location on the map directly. Suddenly the camera immediately points to the very bottom left of the map, or in another direction.
This mobile legends sliding map bug is often encountered and is said to be very annoying, especially when you want to see the condition of your team on another lane. However, when you want to see another area, your camera is shifted to an area that you don't want. This is very annoying and it's good for Moonton to make a fix on this matter.
It turns out that there is a problem regarding the setting in Mobile Legends which has a bug. Maybe you want to change these settings in your game. This setting exposes you to the annoying Bug.
Here we will provide information about the Fix the Slide Map Bug in Mobile Legends that you can use. If you get hit by this bug while playing Mobile Legends, you can try the method below to fix the bug.
Fix the bug shifting map in Mobile Legends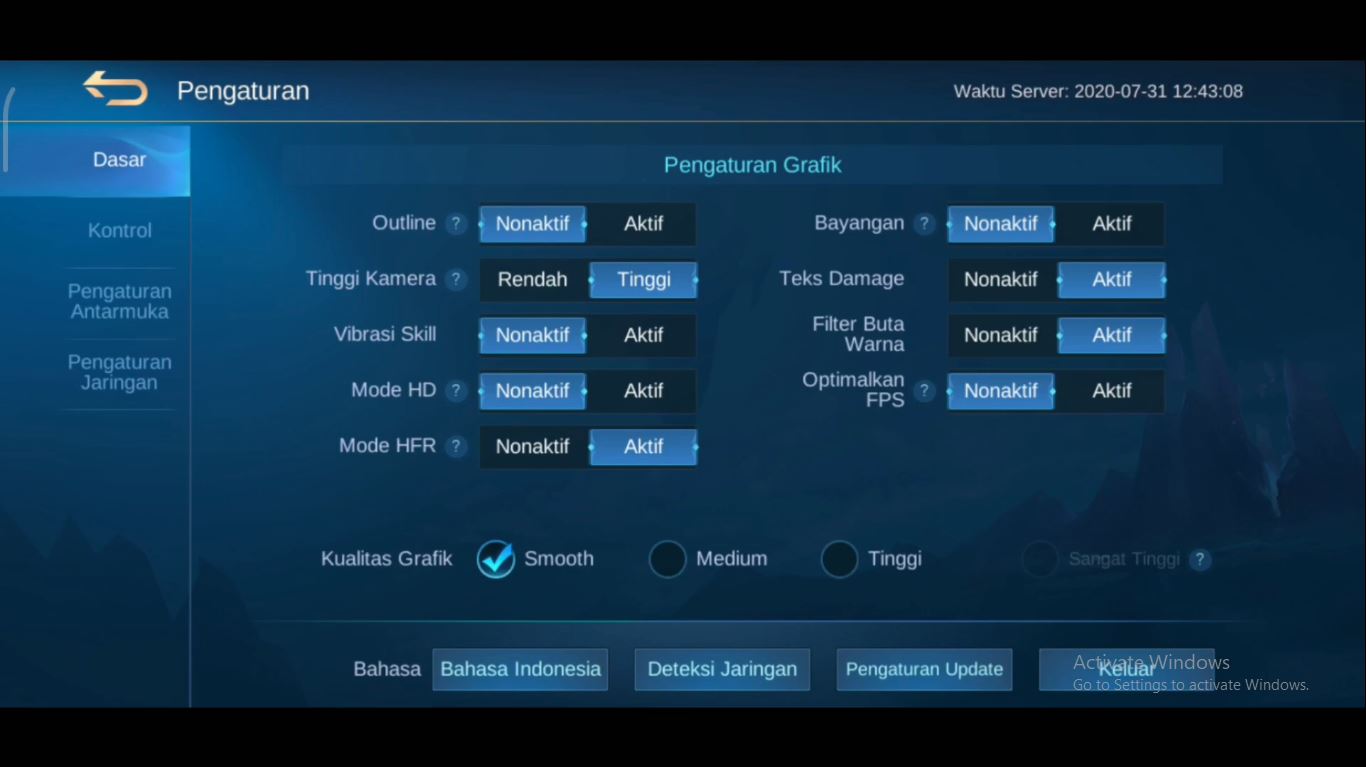 It turns out that the bug is in your settings. Maybe those of you who use good cellphones and play in high graphic settings, are more often affected by this one bug. The following settings might help you in overcoming the mobile legends sliding map bug!
HD MODE
In Settings, you can try turning off HD Mode. Hd mode lets you play at a clearer and better picture quality. But it turns out, this setting is what makes you get annoying bugs. By turning off this feature, you can avoid these bugs.
OUTLINE
Outline can also be the cause for you to catch the bug. Since there is an outline that is not normally used, unnecessary input occurs. You can try to turn off this one feature, to prevent this bug. If it still continues, you can try the last method.
QUALITY GRAPH
Lower the Quality of your image to Smooth, the lowest quality. Maybe because the graphics interfere with input in Mobile Legends, making a bug to the player. You might try to lower the Graphics while playing to the lowest level, to avoid this bug.
That's the Info Regarding the Move Map Bug Fix in Mobile Legends that you can try. Maybe because Moonton wanted to raise the Mobile Legends Graphics too hastily, it ended up making unwanted bugs. Hopefully, this bug will be resolved quickly, so you can play more comfortably. Also Follow Our Social Media on Instagram Esportsku!