Aurora is one of the mage heroes in Mobile Legends, which is a typical hero burst damage. Aurora itself can kill her enemies quickly using only her combo skills. This mage hero is usually played as support in the current Mobile Legends meta. This time we will provide an explanation of the Aurora Mobile Legends skill.
Playing Aurora is actually very easy, you just need to use the skills well and you have to be able to keep the position well too. Because your job is to support gameplay, you have to cover the core hero of your team. Try not to be far from it so you can provide maximum cover.
On this occasion, Esportsku will discuss the Explanation of Aurora Mobile Legends Skills. Now for those of you who are curious and want to know the detailed information of every skill possessed by Aurora Mobile Legends, let's just look at the full explanation below!
Aurora Mobile Legends Skill
Esportsku has made a list which includes the complete sequence of Aurora's skills. We will discuss all the skills and review them in sequence, starting from the passive skill to the active skill. You can see the list of skills below!
Pride of Ice
Frost Shock
Bitter Frost
Cold Destruction
So, those are all the skills possessed by Aurora, including her passive skills. For a detailed explanation of each of the Aurora skills listed above, you can see the full discussion below!
Passive Skill: Pride of Ice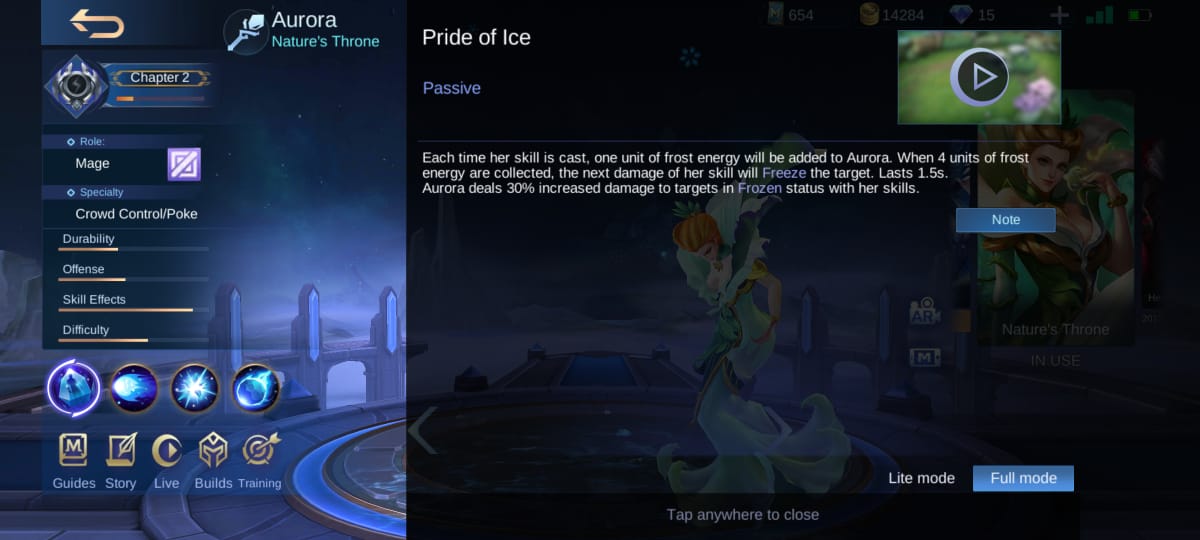 Pride of Ice is a passive skill possessed by Aurora in Mobile Legends. Aurora's passive skill itself can freeze its opponent. To be able to activate the passive skill, you need to use the skill 4 times. You can see that there is an empty bar that will be filled every time Aurora uses her skills in gameplay. When the bar is fully charged and red, it means that the passive skill is active. When you use the attack skill after that it will freeze effect.
Skill 1: Frost Shock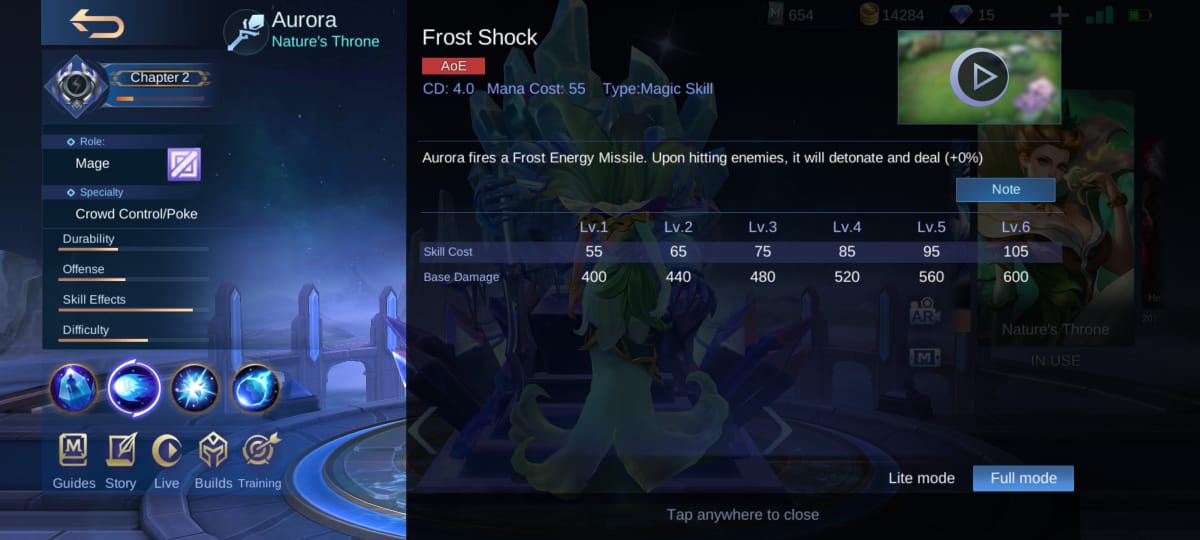 Frost Shock is an Aurora skill that is included in the type of attack skill. This one skill when combined with the passive skill can become AOE in a gameplay. This one skill when used by him will shoot frost energy missiles. The damage generated from this attack is quite large and if hit by an opponent it will produce a slow effect of 25% which lasts for 1.5 seconds.
Skill 2: Bitter Frost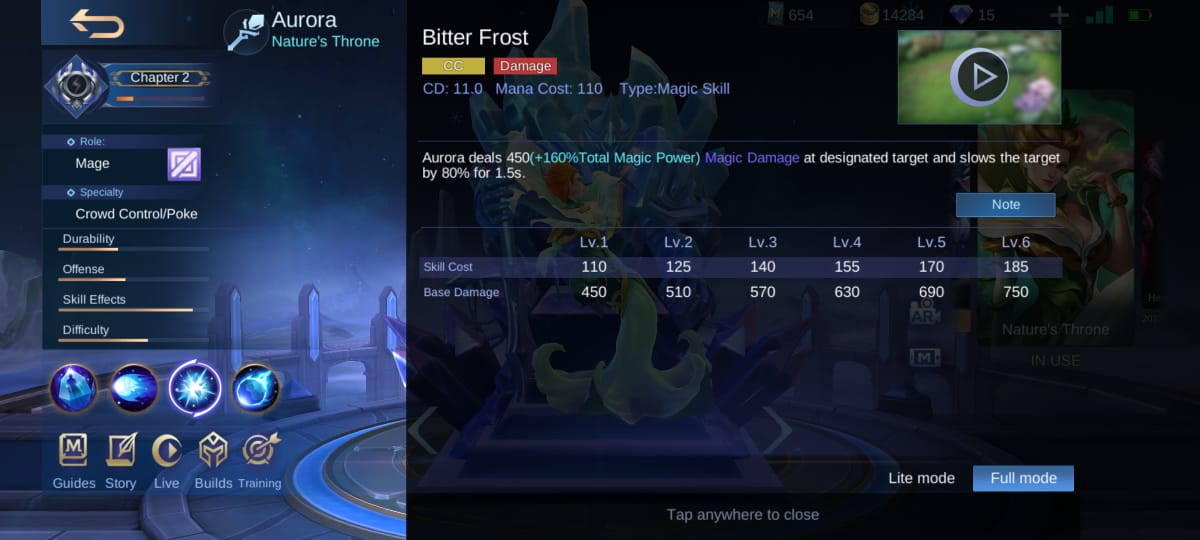 Bitter Frost is a two Aurora skill that can cause a crowd control effect when combined with its passive skill. The damage generated from this skill is very painful and can be well energized with other skills to produce great combos. If hit by an opponent, a slow effect of 80% will be generated which lasts for 1.5 seconds.
Ultimate Skill: Cold Destruction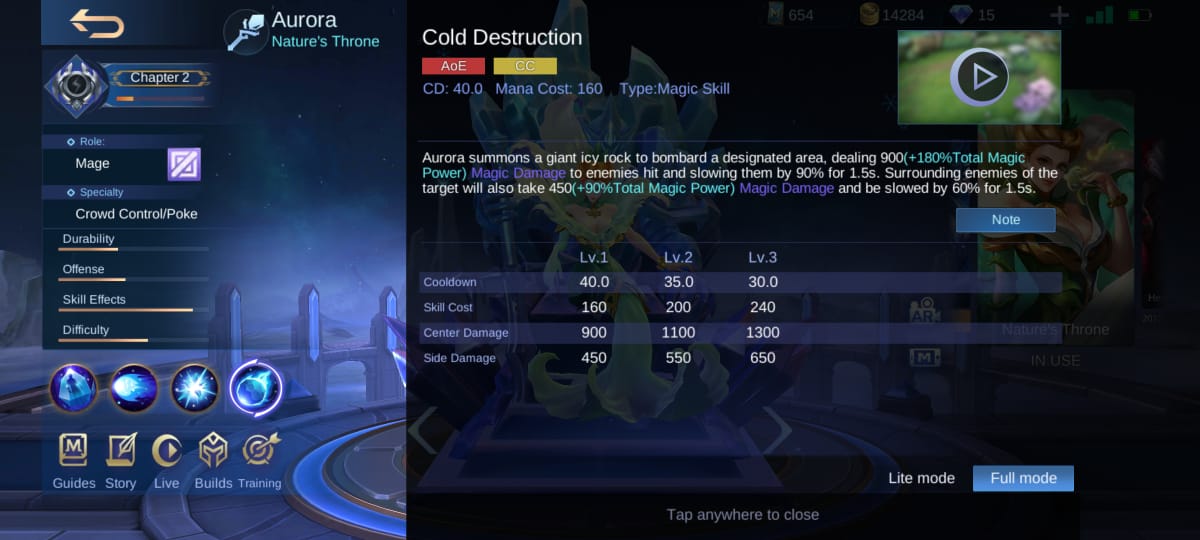 Cold Destruction is Aurora's ultiamate skill which can also give a CC effect when combined with its passive skill. The damage generated from this attack is AOE and it hurts a lot. When using her ultimate skill, Aurora drops Giant Ice Rock on her opponent. The slow effect will also be generated by 90% with a duration of 1.5 seconds.
So, that's the explanation of the Aurora Mobile Legends Skill Explanation that I have discussed in Esports. Hopefully you can understand the skills and use them to the fullest in a gameplay!