For those of you who take part in EVOS 'transfer burs, you will be surprised by the big names being called. But unfortunately EVOS Legends open recruitment jungle / tank seems to be known by several people. Most likely this was because one of their three new players failed to arrive.
Yes, as you know, Antimage and Luminaire are new EVOS players. They signed a contract to play as current EVOS players. But there is one player who should have participated, unfortunately failed to come. Yes, that player is Xorn, one of the best players from Malaysia.
Xorn was supposed to come as a new EVOS player, but either because of a new problem or something, Xorn failed to come. This ended very badly for EVOS. EVOS, which no longer had the time or resources to look for new players, finally lost one candidate. In fast time they need new players.
That's why it seems that one of the EVOS Legens people open recruitment jungle / tank was caught on discord! This may seem strange because an organization the size of EVOS and their most successful team now Mobile Legends is conducting open recruitment. Maybe you are curious, maybe you want to come along, can be seen below!
EVOS Legends Open Recruitment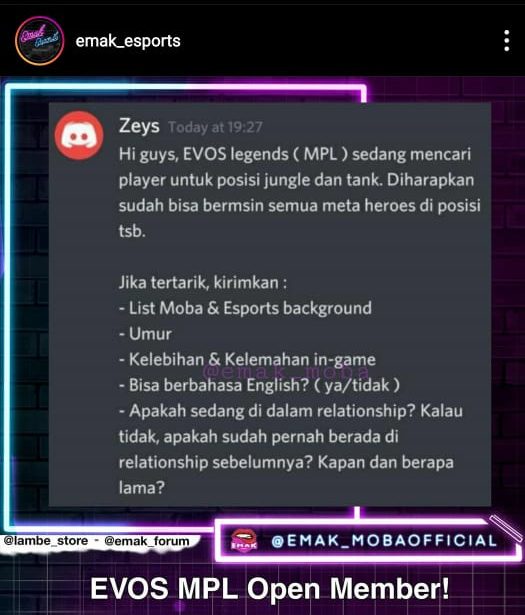 For those who don't know, there seems to be some interesting information. Reportedly Zeys announced that EVOS Legends is looking for a new player. So, this new player through the open recruitment method with EVOS, as long as you are a tank or jungle player, you can join this oprec.
For those of you who don't know who Zeys is, Zeys is the head coach of EVOS. He is the one who is responsible for coaching and being the overseer for the team. Now, he who is looking for a new member for EVOS makes sense.
The reason is because EVOS does lack one new member. They should have taken Antimage, Luminaire, and also Xorn. Unfortunately Xorn didn't work because of a problem. Therefore they are short on one more member.
Finding new players is not easy. They may decide on oprec because of time problems, contract negotiations, or budget. For some reason, the main reason for EVOS to do oprec, they have to do this quickly.
For those of you who are interested, maybe it could be this latest EVOS player. Usually oprec will be selected first from the registration session which will then continue to be tested in ingame. It's not an easy thing to escape from this EVOS oprec for sure.
that's information on EVOS Legends open recruitment jungle / tank. EVOS Legends which requires one more player might not be a good start. Given that EVOS has to rise from slump them, such a lack of members could certainly be a bad thing!
Also follow our social media on Instagram.