With the latest 1.2 update on Genshin Impact, there are lots of new things that you can enjoy. One of them is the Dragonspine area which is open for you to explore. It is important to know the secret of Dragonspine Genshin Impact.
You must immediately explore interesting things here. What we mean here are important factors that you must know, especially treasure. So you must immediately try to find and get it because the Dragonspine area is actually quite large.
So it is very unfortunate if you don't fully explore this 1.2 update because there are many important things to use. For those of you who are curious, you can immediately try to check below.
Well, apparently, there are many interesting things here and we will give you a secret that will be very useful. So without further ado let's discuss the secrets of Dragonspine Genshin Impact. This latest update offers lots of fun content!
Peak of Vyndagnyr
See Others Come on
Best Hu Tao DPS Build for F2P Genshin Impact
The latest news for Ghensin Impact will visit the players in …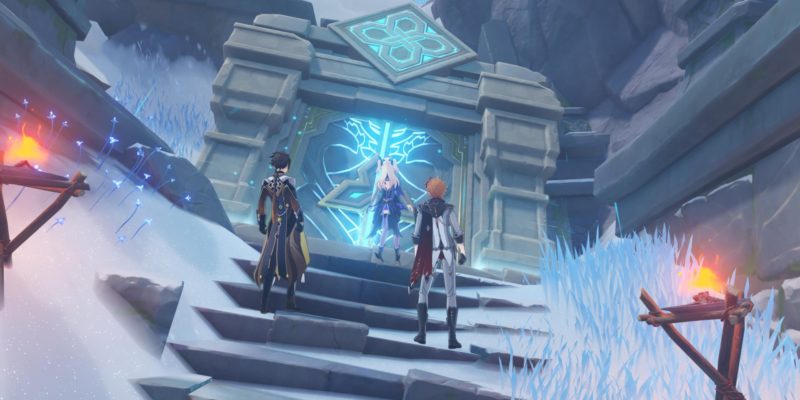 Don't miss this one domain. Containing Cryo artifact elements, Peak of Vyndagnyr is a very profitable domain. Now to open this domain you have to open all ice shards
For those who are curious about anywhere, you can check the Frostbearing Tree, two in the mountains in the middle of the Dragonspine, the top of the mountain, the bottom of the cave, and the rest scattered at the ends of the map. So you can try to check there all.
Crimson Seelie
See Others Come on
Zhongli Rerun Genshin Impact Banner Leaks 1.5
Latest Redeem Code from Game Genshin Impact March 2021!
Characters Who Like Lumine Genshin Impact, There Are Interactions …
Check the location immediately to find Star Silver Genshin Impact
Unlike other regions, in Dragonspine there is also a Seelie that you can use. The difference is that the Seelie here is the Crimson Seelie which has the element of fire. You will continue to use it in the Dragonspine area.
Also read:
Noblesse Oblige Genshin Impact, It is Important for You to Understand
Easy Ways to Get Chests in Genshin Impact
This Crimson Seeling will be useful to give you warmth. Not only that, because in this area there are also a lot of puzzles that utilize this Seelie. So don't you miss it.
Frost Bearing Tree
Perhaps of all this the Frost bearing Tree is the most important. You can find trees in Dragonspine and offer many attractive prizes that will be important to you.
In Dragonspine all of your Crimson Agate will be of use. The point is exchanged for this tree. Starting from EXP until all of your materials can be found in this tree.
Starglow Cavern Secret Quest
For this one is the secret mission you receive at the Starglow Cavern. Now it's a bit difficult if you are confused because this mission is a bit secret and requires a character who can tuck on the rocks.
Also read:
20 Locations of the Shrine of Depths in Genshin Impact
Elemental Mastery Genshin Impact and How to Improve It
Later, just complete this mission and get lots of attractive prizes. The most important of which are the gifts and chests tucked away deep in the Starglow Cavern. Don't forget this mission in Dragonspine.
Skyfrost Nail Secret Room
Skyfrost Nail has an interesting thing here. In this room, there are several treasures that you can take. But it's not easy for you to open because you need important things later.
You have to collect three golden chests which are slightly spread out. There are things you have to look for and some are from Albedo's mission. Inside this room there will be a Crimson Agate and a Luxury Chest.
That's the secret of Dragonspine Genshin Impact that you should know. You have a lot to explore from this place and of course it will be very useful for you. Don't you guys skip all of this on Dragonspine.
Also follow our social media on Instagram.