For those of you who enjoy the Takeshi Fortress TV show that has been broadcast on Indonesian TV, Fall Guys is a game that is suitable for you by bringing the same spirit of competence. Fall Guys seemed to have the right moment when it was released, and finally became one of the games that were booming in 2020 and also won the 2020 Steam Awards. This game continues to update its content, and in 2021 they will have a very popular guest, DOOM in costume form. the latest.
DOOM Costumes Coming to Fall Guys Starting Next Week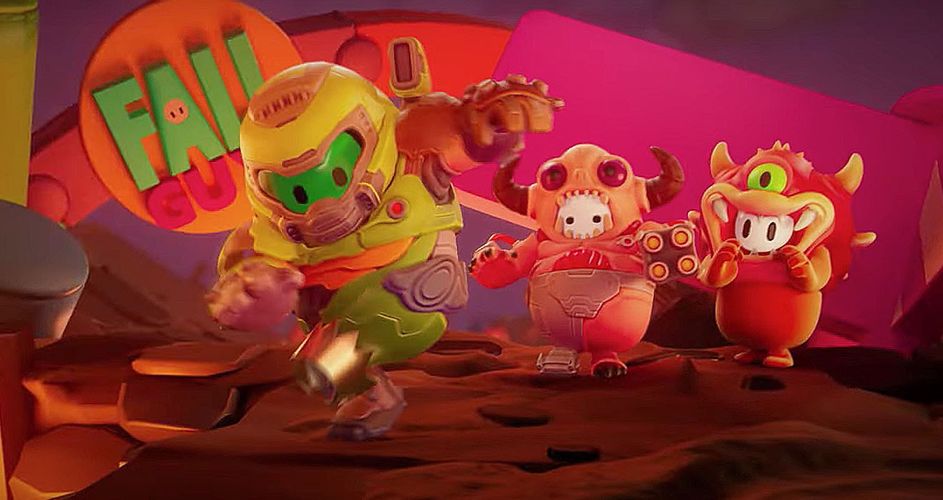 Launching from Screenrant, the developer of Fall Guys Mediatonic will add a DOOM-inspired skin to their game, after a few hints have been prepared to tempt the players. A new trailer shows that the costumes are coming next week.
The game, which has been around since August 2020, continues to update its content, with new seasons and skins coming out every few months. Recently, the team released a skin related to a charity contest on the game's official Twitter account which was held in August 2020, one of which was related to the popular YouTuber Mr. Beast. Of course, there was also other participation with many other game representatives apart from the company side.
https://www.youtube.com/watch?v=aXWj_apjeHE
In new footage posted to YouTube from Devolver Digital, the developers show off new costumes on everyone's favorite bean character model with DOOM's classic theme music. In the trailer, the characters walk through a Doom-style world that looks chaotic and fun, and towards the end, Doom Slayer makes its big debut (yup, DOOM slayer costume). Two other costumes, Tyrant and Cacodemon, also appear, which are likely to accompany the new DOOM skin.
The skins will be available to players starting January 12 for a limited time. However, it has not been announced how long they will be in the shop and when they will be leaving. It's also not yet confirmed whether there will be a Doom-inspired arena like the one in the trailer, but if that seems to be the case, it will definitely add to the immense fun.
The Fall Guys team has been working hard to reward its players with new skins. Recently, this game came out with skin gold to give to their top players. How much these skins cost – or how many crowns a player might have to win – have yet to be announced, but it cannot be denied that they will cost 10 crowns each (according to the previous crossover costume).
DOOM Eternal is one of many games that came out last year and became a hit, thanks to its challenging levels and fast-paced action. Fall Guys itself has had a big release and is feeling a high level of popularity, becoming one of the biggest multiplayer games of the year in the process, so it's no surprise that the two biggest games of 2020 decide to collaborate together. Will this mark the start of even more collaborations between Fall Guys and other popular 2020 games (perhaps Animal Crossing?), Only time will tell.
Stay tuned for the latest information about the world of gaming, especially e-sports games, only on Esportsku!