There is a discount for the Latest Cheap FF Graffiti Incubator Free Fire 2020, this is because Garena will present many interesting things for its players. Whether it's from the update feature and events held. They have developed the Free Fire game well, so the event that is being presented should not disappoint the players either. Lots of events are presented by the developer, either from free or paid events.
Besides that, there is also a big discount event. So that players who have diamonds can buy many items at low prices. The discount presented by Garena Free Fire always gets a lot of positive responses from its players, because it can be said that this discount is very large.
Garena also always presents big discount events, for example, like Change Your Fate FF. Where you can determine your own discount by Spinning, if you are lucky you can get a discount of up to 90%.
Right now, Garena has released a new, quite interesting Discount Event. For those of you who want the Graffiti Bundle, now is of course the best chance to get it because there is a Graffiti FF Incubator Discount.
On this occasion we will explain the Graffiti Free Fire Incubator Discount event that is currently taking place in the Free Fire game.
Curious? Immediately, we see the explanation in the article below.
Also Read: New AK47 FF Skin in Weapon Valentine Free Fire
Discount for the Latest Cheap FF Graffiti Incubator Free Fire
This discount will last from February 16, 2020 to February 20, 2020. You will get a Free Fire Incubator Graffiti discount for Spin every day of 50% at Incubattor Graffiti. Of course the Incubator Graffiti Free Fire discount is very beneficial for many players, besides getting the main prize they will also get other prizes.
So in this event, 1 day you will get a Free Fire Incubator Graffiti discount of up to 50%. Whether it's to do Spin 1 time or 5 times, you will get a discount for Spin for the first time that day. If you have done one of these spins, the discount will disappear. But don't worry, because this discount will appear again for tomorrow.
Of course this will save your Diamond expenses, so that the remaining Diamond you have can be used for other things. For example, you want to Spin Diamond Royale or buy other items.
Anyway, you should not miss this Incubator Graffiti FF discount opportunity, because it is very profitable.
Explanation of the Graffiti Bundle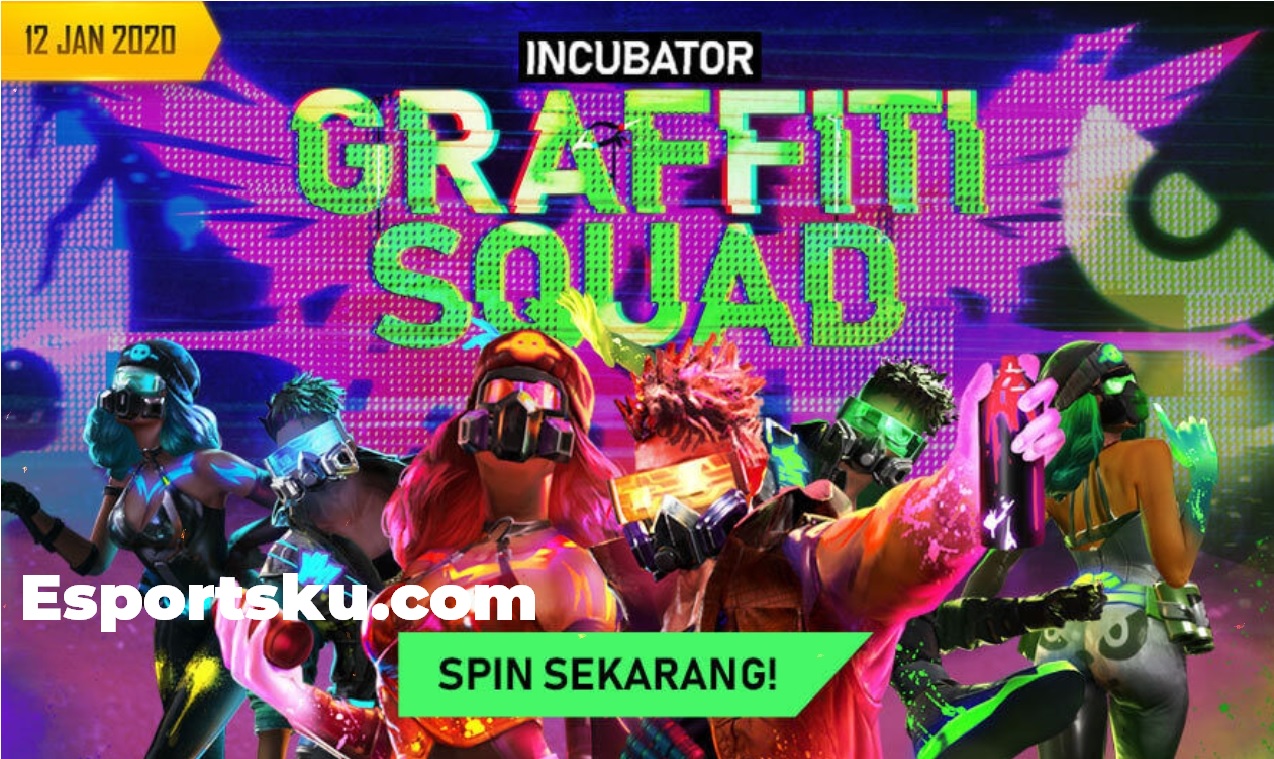 This bundle is in the Incubator Free Fire Yesterday, to get it you have to Spin and get a Blue Print from the Bundle. There are 3 Bundle options that you can choose from, namely Blue, Yellow and Red. We once discussed this incubator ff bundle in the latest Incubator free fire 2020 post
This bundle is very unique and good enough for those of you who like modern things, because if you look at it, it looks quite futuristic. Using a mask with elegant glasses, cool graffiti member clothes. So, you should use the Discount Incubator Graffiti Free Fire better.
To exchange this Bundle, you also need Evolution Stone FF. For those who don't know how to get Evolution Stones, they can be obtained through this Spin and through the Elite Pass.
So that's the information we can convey on this occasion. How? Are you interested in getting this one bundle?
That's it, Thank You and Greetings, Booyah.
---
If you want to get lots of information about the Free Fire game, you can immediately join our group.