The newest event in the Free Fire game is finally here to accompany you with the theme of the Halloween FF Event. This event has appeared with the title Fear Fire which has started from October 18 to October 28, 2019. You can get Devil Tokens and Pumpkin Free Fire at the halloween free fire event.
Halloween FF Event
This Fear Fire event has also provided lots of prizes that are quite interesting, if you want to get a prize at this event. Then you will be asked to collect Devil and Pumpkin FF Tokens. You can exchange it for a gift that is shaped like a witch's wand.
Devil and Pumpkin Free Fire Tokens
In this event, there are two types of redeem tokens with a Halloween theme that you can collect during this event, namely Devil Candy Tokens and Pumpkin Candy FF.
Also Read: FF Blognusa Redeem Code October 2019
The two tokens have different collection methods, below we will explain how to get them
Devil and Pumpkin Free Fire Tokens
How to Get Pumpkin Free Fire Tokens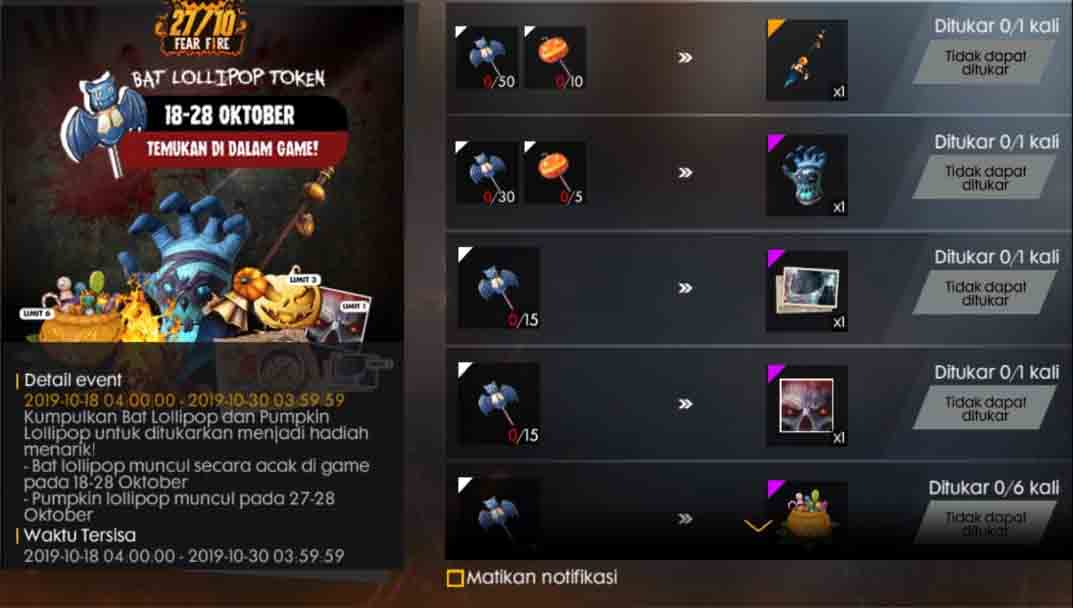 To get this one bat lollipop token, you will be able to find it in every map in Free Fire. Just like the previous Free Fire event. For the Fear Fire Event, also bring Pumpkin Candy free fire tokens that are randomly scattered in each Free Fire location. You can collect these bat candy tokens from October 18th to October 28th, 2019.
How to Get Devil Free Fire Tokens
If you want to collect this one token, you can only collect it from October 27 to October 28. This Devil Candy token has a shape like a pumpkin candy, for now the token is not available at all and of course you can't collect it.
Also Read: Free FF Diamond VIP Generator!
Garena also hasn't announced how to get Devil and Pumpkin FF Tokens at this Fear Fire event. However, we also have several possible ways to get these tokens. Get it by looting the enemy's coffin. You can shoot something that will bring out the token later.
Halloween Free Fire Daily Login Event.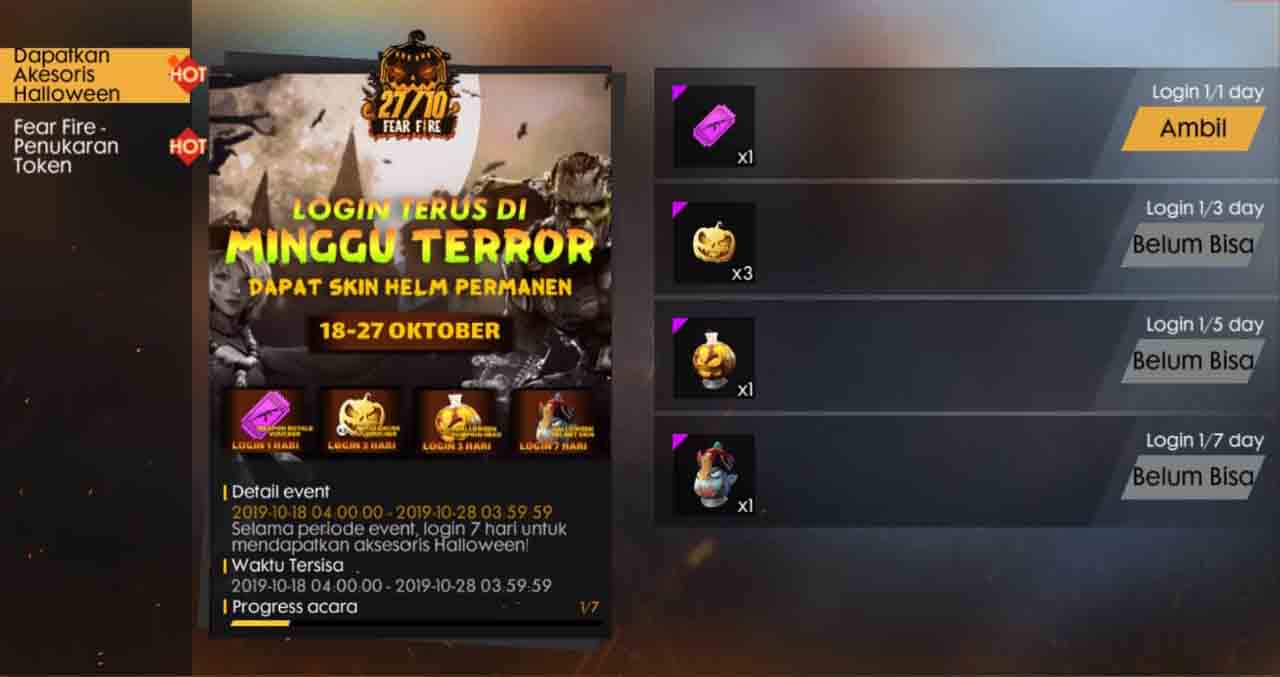 Not only presenting the Devil and Pumpkin FF Token event, Garena has also launched a Daily Login event at this Halloween event. If you want to get a prize at this event. The method is quite easy, you only need to log into the game consecutively to get all the prizes.
Also Read: The Latest FF Incubator Free Fire Skin Bundle
This daily login event has started from October 18th and will end on October 27th, 2019, where you can get a permanent Vampire Mask and Halloween Pumpkin Mask prizes after you log in daily to the event.
Get Devil Tokens and Pumpkin Free Fire!
Well, as you can see for yourself in the event above, Free Fire has provided an event that you shouldn't just miss. You must get Devil Token and Pumpkin Free Fire because the Halloween event is one of the events that is only held once a year. So what are you waiting for? Let's play Free Fire and complete the following missions so you can get various kinds of prizes that are very interesting again.