Corrosion Scythe is one of the attack items in Mobile Legends which is often used for typical heroes who rely on their attack speed. Corrosion Scythe is an attack item suitable for use when the game is in mid game. By using this item there are lots of additions that you get both additional stats or additional effects from this one passive skill item.
You can get Corrosion Scythe in Mobile Legends for a cheap price of 2050 gold only. We will review the item Corrosion Scythe Mobile Legends here for you to understand more about the usefulness of this one attack item.
On this occasion we will provide an explanation of the Item Corrosion Scythe Mobile Legend Review. For those of you who are curious and want to know the usefulness of this attack item called Corrosion Scythe in Mobile Legend, let's just take a look at the full explanation below properly and correctly!
Corrosion Scythe Mobile Legends
Corrosion Scythe is an item that is suitable for use during mid-game because it can make your hero even stronger. Usually Corrosion Scythe is used by typical marksman heroes who have high attack speed and fighter heroes who need attack speed and slow effects. This item can provide a pretty good stat addition and the passive skill of this item itself is also very suitable for heroes who rely heavily on their attack speed.
Statistics of Corrosion Scythe Item in Mobile Legends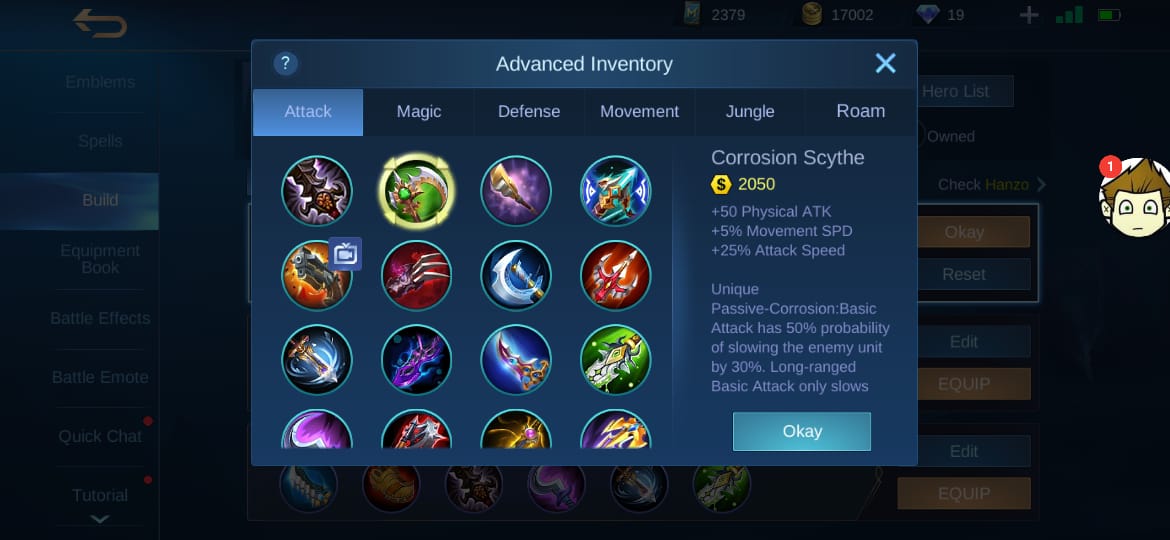 By using Corrosion Scythe in Mobile Legend you will get additional stat points in the form of +80 Physical Attack, + 5% Movement speed, and + 25% attack speed.
This 2050 gold item provides a very good stat addition where the damage you generate gets bigger and gets a fairly large additional movement speed and attack speed. This item is highly recommended for heroes who really need attack speed in Mobile Legends.
ALSO READ:
Passive skill item Corrosion Scythe Mobile Legends

Corrosion Scythe ML Besides giving you additional stat points, this one attack item will also give you additional effects from its passive skill. Passive Corrosion Scythe Skill is a basic attack that has a 50% chance to slow down the opponent by 30%.
A basic attack launched from a distance will also have a slow effect but only 15%. In addition, you will also get an additional 8% attack speed when using a basic attack. The attack speed you get can be stacked up to 5 times. This effect lasts for 3 seconds.
Now that's an explanation of the Corrosion Scythe ML review that we have explained. Hopefully this is useful and can be a good reference source for all of you. Read the review of the Corrosion Scythe item above so that you can understand the usefulness of this Corrosion Scythe well!
Don't forget to visit Esportsku (@ esports.ku) to get other interesting information about the Mobile Legends game and other interesting news about the Mobile Legends game and other esports news. See you!