At the end of each year, of course you will be presented with various Christmas-nuanced events. Especially in the Mobile Legends game, you will attend an event called Christmas Raffle which will provide free Starlight skins to Mobile Legends gamers. Christmas Raffle which will be present at the end of December 2020 at Mobile Legends.
Christmas Raffle is one of the Christmas-themed events that will be present for you in the Mobile Legends game, this event is actually almost the same as the Party Box event, what is different is the prize you can get, if the party box is Epic Limited skin, but at the Christmas Raffle event you will get starlight skin. There is a starlight skin that is here for the first time, to the latest starlight skin in Mobile Legends.
Christmas Raffle Event Release Date
The Christmas Raffle event will be released on December 25, 2020. At this event, it has a similar appearance to the party box event but with a Christmas theme like any Christmas event in general.
What's interesting is that the Christmas Raffle Event contains quite a lot of starlight skins that you can get for free. Surely the release date itself is very interesting for you to wait.
To get the starlight skin that has passed itself, it certainly takes a long time, you have to use around 200 rare fragments to get just one skin. But it's different at the Christmas Raffle event, you can get this skin for free. Then how do you get a free starlight skin at the Christmas Raffle event?
How to Get Free Starlight Skin on Christmas Raffle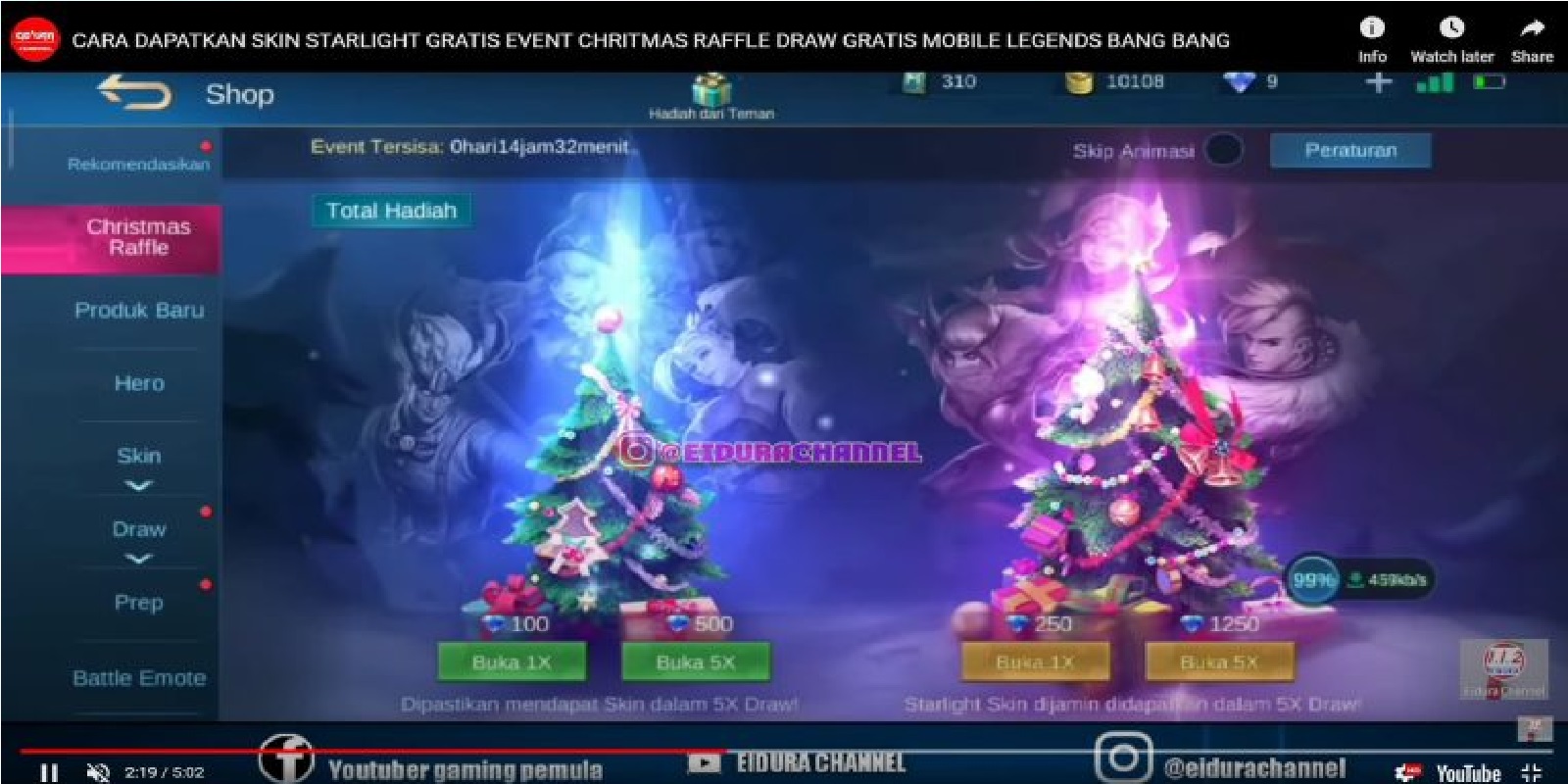 To get a starlight skin at the Christmas Raffle event, you only need to draw. This event is indeed specifically for players with money or not. If you want to get all the prizes, just use your diamonds like the usual draw event. But for you free players, don't worry, you will also get a free draw at the event.
Moonton will give tickets to draw at the event, as usual. These tickets are usually obtained from logging in or completing the tasks presented. Then exchange them for tickets and you can draw to get free prizes.
It is quite interesting that the event that Moonton will present in December 2020. Which they are very aggressive in presenting free skins every month. This will also add excitement when you play the Mobile legends game.
That's it for this review regarding the Christmas Raffle event which will be present on December 25, 2020. Hopefully the newest event that will be present in the coming months can add to your skin collection in Mobile Legends. May be useful.