Previously, Moonton had released a new hero Chong with the ability to transform into a Dragon, then there is another fighter hero, Khaleed, who is a hero from the Middle East. Well, besides the two heroes, Mobile Legends also released an assassin hero who will be very OP, namely Benedetta, who has high immune skills in Mobile Legends.
Immune skills can actually block various attacks and become one of the best skills a certain hero has. If you talk about Immune, of course you already know Chou who is the King of Immune in Mobile Legends at this time.
But we have a new hero called Immune Queen, namely Benedetta in Mobile Legends. This hero has been released and you can use it on the Advanced Server today.
Also read: Wanwan Mobile Legends, Build Items, Emblems and Best Battle Spells
Skill Set Benedetta Mobile Legends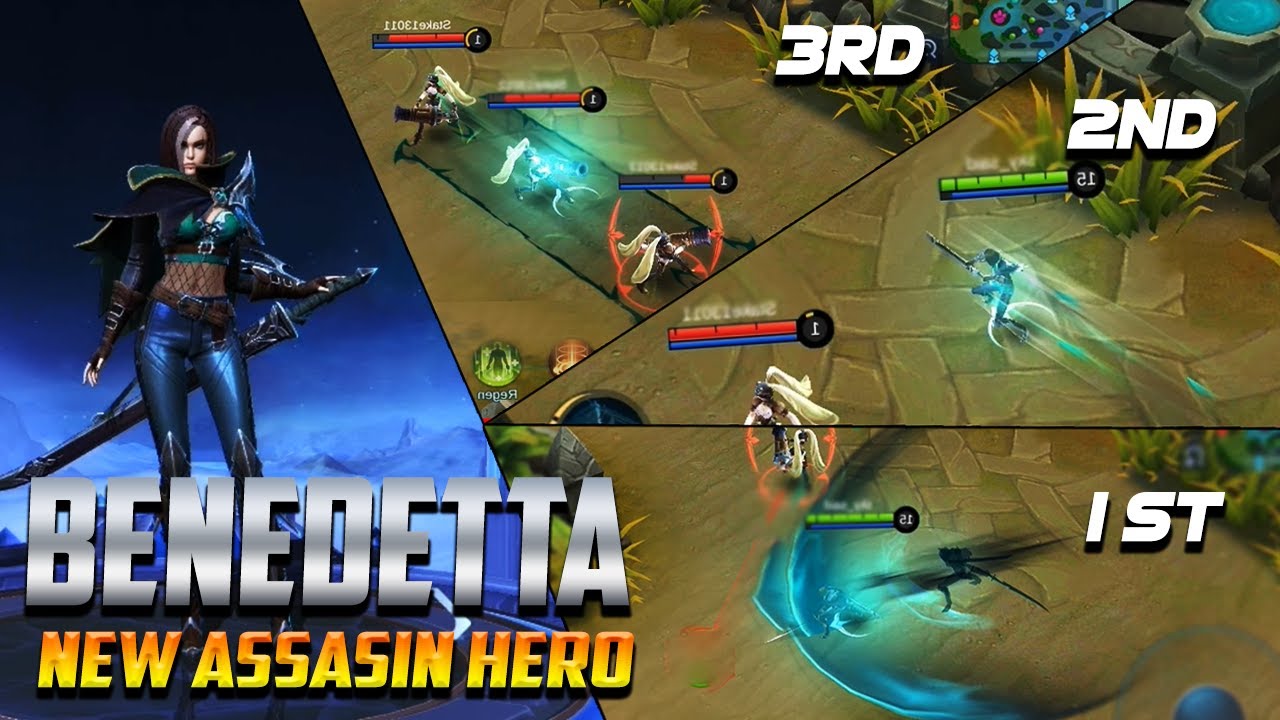 As the Asssassin hero with the best immunity, here are some of the skill sets that Benedetta Mobile Legends has.
Benedetta has a passive skill that allows you to dash using basic attacks. The method itself is to press the basic attack and then Benedetta to hold the attack by holding it and when it is full, Benedetta will give a dash attack to the enemy in front of her.
Also read: Minotaur Mobile Legends, Build Item, ML Emblem, Best Spell
Then, in Benedetta's first skill, it will give a burst damage type. This skill is an area skill with high damage and attacks with one point.
In his second skill, Benetta will dash forward with the ability to be immune from various CC attacks.
Benedetta will block the attack by concentrating power on her sword in a few seconds. In this mode Benedetta will withstand all types of attacks, from Saber, Nana, and other crowd control attacks.
Also read: 10 common things in Mobile Legends that make it difficult to increase your ML rank
Benedetta's 2nd skill is one of the advantages which is the best immune skill besides Lancelot or Chou.
After launching this skill, Benedetta will get a reduction from various attacks ranging from turret attacks to other enemies. We are not sure if this is damage reduction or is it still Immune in Bendetta's second skill.
In Benedetta's ultimate skill, he will launch a dash attack in the specified direction by giving a sword slash at each step behind him.
This skill is a blink type that deals continuous damage if the enemy is on the dash line, then he will get movement speed afterwards.
Also read: Gord Mobile Legends, Build Item, ML Emblem and Best Battle Spell
Is it possible that Benedetta will be released to the Original Server?
In our opinion, Benedetta will be released to the Original Server in July after the hero Chong is released. Now after that, the newest Fighter hero Khaleed will be followed in August. Oh yeah, this is just an estimate huh. For the issue of the release date, we will report back later.
Now that's all about the latest hero of Mobile Legends Benedetta, who is a very deadly assassin hero with high immune skills. This one hero is ready to come to change the meta hero of Mobile Legends in the future. May be useful.