Apologies from Mobile Legends. If you are active in the Mobile Legends community, you must have heard about the problems in the Mobile Legends Philippines scene. Apparently the official Mobile Legends social media account makes a mess and embarrasses you! This starts with the hilarious Wild Rift post.
Initially there was a post from Wild Rift regarding their game update. Of course, many have commented and complained that the game was released for a long time. You can find everything from serious to joking in the comments column. But there is something interesting, namely there is a comment from the official Mobile Legends account.
Instead of encouraging or positive things, the Mobile Legends account actually insulted and mocked Wild Rift. They say that Wild Rift has a bad website, like their game. Suddenly this made many people angry and furious.
From there appear a lot of things that you can see. One of the most prominent ones was an apology from the community manager. This certainly confuses many players who don't follow the news.
Here we will explain about the apology from Mobile Legends. To be more precise, from the community manage Mobile Legends Philippines. This certainly tarnishes the name Mobile Legends.
Apology From Mobile Legends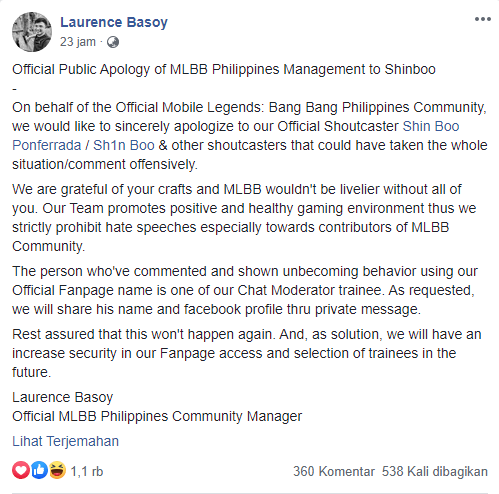 It seems that after the non-wearing case, Laurence Basoy as Community Manager of Mobile Legends immediately apologized publicly to the Mobile Legends community and Sh1n Boo. This is because Sh1n Boo, who is a shoutcaster in Mobile Legends, felt threatened by the official Mobile Legends account that was acting up beforehand.
After his previous derogatory comments and hate speech, Sh1n Boo apparently responded to the action. He laughed at the official Mobile Legends account. The party in the account did not accept it and threatened Sh1n Boo's position as a shoutcaster. They think Sh1n Boo shouldn't behave like that and he doesn't deserve it.
The anger of the Mobile Legends community in the Philippines immediately shot up. They immediately get angry and ask for responsibility or at least apologize. Community Manager Mobile Legends immediately issued an open apology to the community and Sh1n Boo. Besides that, the person behind ML's social media account was immediately punished as severely as possible. Not only that, trainees for social media were immediately tightened up!
They promised that this would not happen again and that they would conduct a screening for this vital position. Of course, this damage has already occurred and many do not trust Mobile Legends social media anymore.
That is information about the apology from Mobile Legends. This can be a lesson for all parties that there are consequences from what you say when you are on social media.
Also follow our social media on Instagram.