Mobile Legends Professional League Indonesia Season 6 is currently entering its 7th week. On its first day which took place on Friday 25/09/2020, there was a match between Alter Ego and Genflix Aerowolf with Alter Ego's landslide victory.
This is the first match in week 7 at the same time on the latest patch that was just presented by Moonton on September 22, 2020 yesterday. In this patch, each player must provide a new gameplay mechanism and adapt again to other recent meta-metas.
However, this doesn't seem to be the case with Alter Ego, the Top 1 team in the MPL ID Season 6 standings still providing deadly and crazy gameplay in today's match week 7.
However, the opponents were not playing games, both Alter Ego and Genflix Aerowolf, both of these teams managed to play very well in the previous week. So, here are the results of the MPL ID Season 6 match between the Alter Ego match against Genflix Aerowolf in week 7.
In the first game, both teams chose a draft pick hero which remained the same as the meta hyper carry. Yep. Even though the name of the eye itself has changed, namely hyper carry has changed to jungler, the gameplay itself remains the same.
On the Genflix Aerowolf side, they used Ling as the Jungler hero and for Alter Ego they used Yi Sun Shin. Meanwhile, for other heroes, there are Esmeralda (Alter Ego) and Chou (Genflix Aerowolf) as EXP Lane fillers.
The game started very fiercely from both teams. Both Alter Ego and Genflix Aerowolf played very aggressively and the presentations were very good.
Then at 10 minutes the two teams still got the same result. Both Genflix Aerowolf and Alter Ego get 10 kills each.
However, it was different during the late game, where the combo hero of Alter Ego began to dominate. Alter Ego managed to get Lord to help him get his first victory in Week 7 MPL ID Season 6.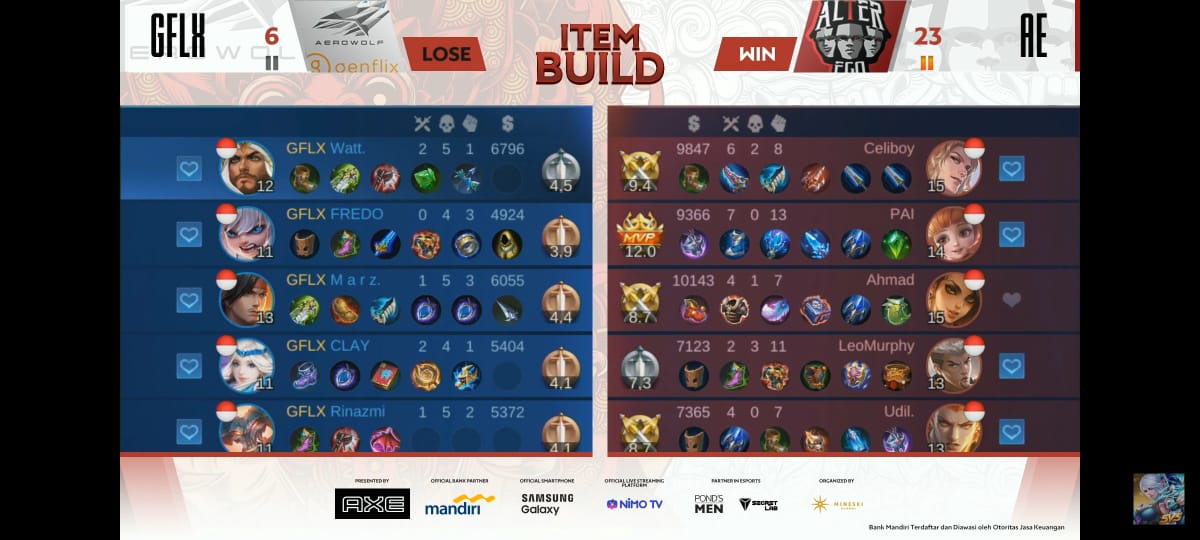 Then in the second game, Genflix Aerowolf tries to equalize by using Yi Sun Shin's meta hyper carry. Meanwhile, Alter Ego chose the hero Lancelot.
But unfortunately, losing in the first game did not make Genflix Aerowolf's revenge go well. This is because the Alter Ego team is really going crazy this time.
And even Alter Ego didn't even spare Yi Sun Shin for farming. All Genflix Aerowolf areas have been successfully controlled by the ALter Ego game.
In this second game the game progresses very fast. Alter Ego won the second game in the 13th minute.
With this victory, Alter Ego has established itself in first place in the standings while MPL ID Season 6. As for Genflix Aerowolf, each is perched in position 6. Despite losing, Genflix Aerowolf itself is certain to enter the Playoffs round as caretaker.