The vast world of battle royale requires players to be prepared for the various possibilities that can occur in the game. In line with that, this time we will provide tips in the form of 2 ways of door to door warfare in PUBG Mobile.
As a battle royale game, PUBG Mobile provides extensive and complex maps. That makes the world of PUBG Mobile's battle royale very wide.
In addition, the detailed graphics provided make the world in this game realistic. Including the details of the world where there are housing scattered in various areas on each map.
Also read: 5 Facts about the S12K Shotgun on PUBG Mobile
2 Ways of Door to Door War in PUBG Mobile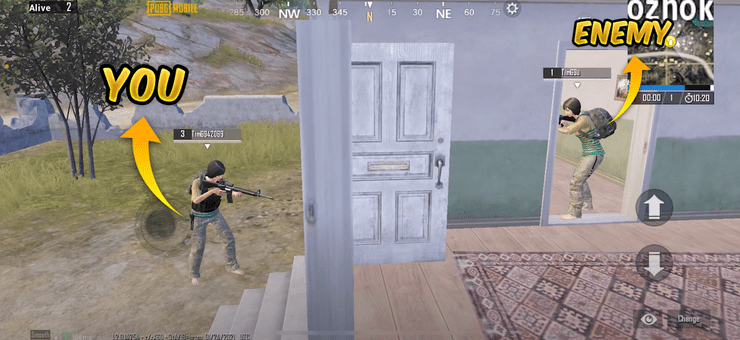 Playing in a residential area requires players to prepare a strategy for close combat or close combat. Various strategies to close combat must be prepared.
What will you do when you are in the residential area and want to enter a house, and suddenly when you open the door you run into enemies?
Conditions that will make you require door to door war. Here are 2 ways to do door to door warfare in PUBG Mobile that you can do in such conditions.
1. Strike Inward
The first way you can do in this situation is to play aggressively, which is to attack inside. It must be underlined that this method is very risky and endangers your life.
Before attacking, make sure that your supplies are ready. Such as weapons in full bullet condition, have grenades, and so on.
When you feel ready, you immediately enter the house and point your crosshair weapon above, parallel to the enemy in front of you.
Then shoot barbarically at the enemy. That way you will be able to get a headshot kill and win this door to door war.
2. Waiting Outside
The second way is the passive way, that is, by waiting outside. Of course this method is far from risky. You just have to wait outside, waiting for your enemy to start the attack.
It would be better if you immediately put yourself in the crouch position. The goal is so that you don't die from a headshot from your enemy who attacked first.
In addition, also prepare your armor, such as using a helmet and vest. The goal, of course, is so that you are not easily killed when attacked first.
Your position outside the house is more advantageous than your enemy who is still in the house. That's because you are in a larger area outside the house. The goal is so that you can move more freely.
After that, position your weapon's crosshair and counterattack your enemy who is heading out. That way you will win the door to door war.
Also read: 5 Tips to Master Pochinki Erangel PUBG Mobile
Those are 2 ways of door to door war where you run into enemies while opening the door. Follow the latest information and news about the world of esports only at Esportsku!