Yu Zhong is one of the fighter heroes whose strength comes from dragons. Yu Zhong is a pure fighter hero who has enough HP and is very strong to be used as an offliner. Yu Zhong will be coming to the Original Server Mobile Legends soon after experiencing some adjustments in the Advanced Server.
Yu Zhon was supposed to be released on the Original Server Mobile Legends before Luo Yi, but because there were still quite a lot of bugs and adjustments that had to be adjusted, finally the release schedule for this hero was postponed and released by Luo Yi first.
This hero can turn into a dragon and when he is in dragon mode each attack will give his enemy a stun effect. When he became a half-dragon human, this hero also experienced an increase in skills which of course made the damage even more painful.
Also read: 3 Latest ML Border Avatars Released in July 2020 Mobile Legends
Yu Zhong's Latest Skin Survey in Mobile Legends
Moontn as the developer is currently holding a Yu Zhong Mobile Legends skin survey. The purpose of holding the Yu Zhong Mobile Legends Skin Survey is to determine which skin is suitable for release along with this hero on the Original Server Mobile Legends.
As we know, the release date for Yu Zhong Mobile Legends has been determined and you can get heroes and skins together later. You can see that there are two skin choices during this survey session, namely a skin with a mechanical dragon appearance and a vampire dragon appearance.
Yu Zhong's Green Skin

On the skin with a mechanical appearance, Dragon yu Zhong is seen wearing a costume while in human mode, like using an armor which on the shoulders is like using a steel armature with green accents which looks quite harsh. When in Dragon appearance it looks like the entire body of this dragon is covered by tough steel and the tip of the dragon's tail is made sharp.
On the hand, Moonton also designed it like a sharp sickle. In addition, when Yu Zhong is in human-half dragon mode, his entire body is also covered with strong steel armor and makes this hero look more frightening.
Also read: Prediction Skin Season 16 Mobile Legends, Skin Vampire Eudora ML?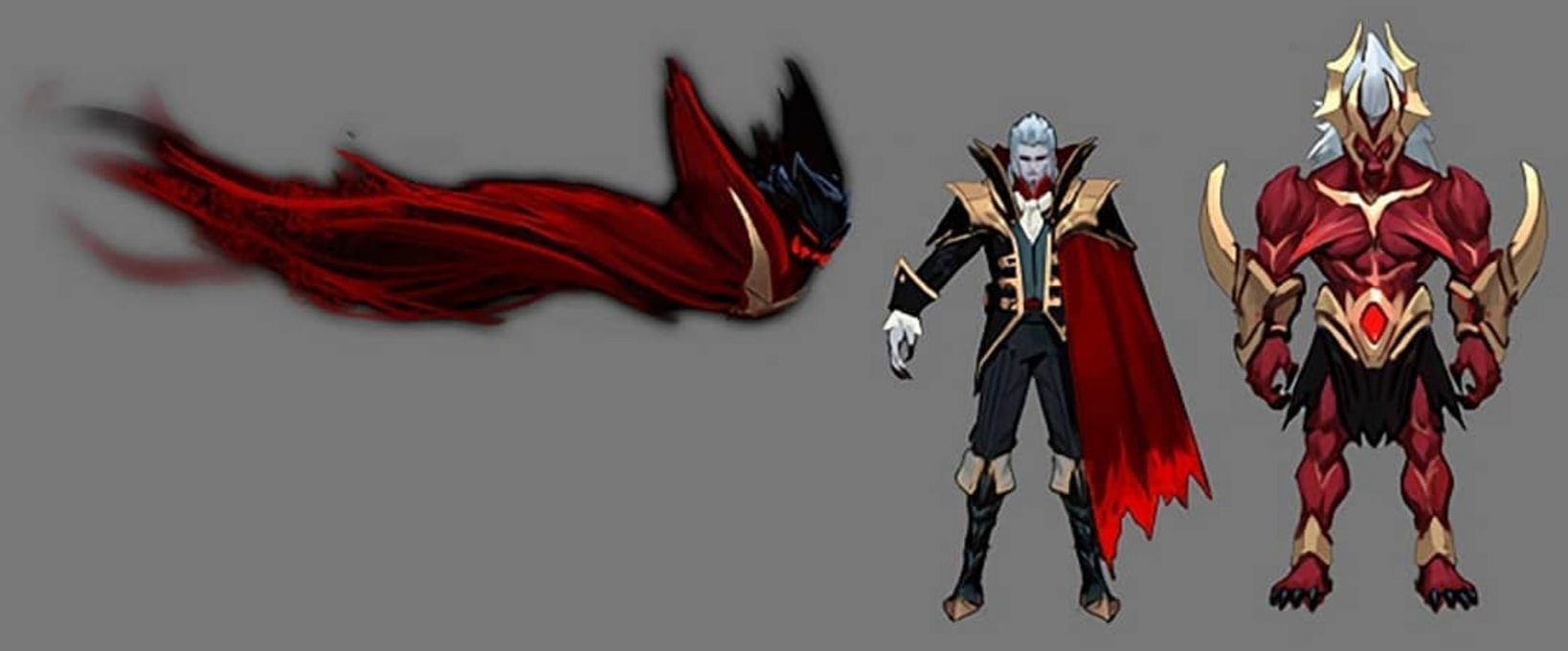 For a skin with a Vampire Dragon appearance, Yu Zhong looks like a vampire wearing red armor with a royal vampire costume that is predominantly black. While in dragon mode his entire body was enveloped in a red aura and looked like a bat. Very cool and quite creepy when in dragon mode display.
Also read: Mobile Legends Aurora Summon Event, Special ML Skin for Sultal!
For his own half-dragon mode, Yu Zhong uses armor with a predominantly red color. In his half-dragon human appearance this made him look quite spooky. At first glance it looks like a half-dragon human combined with vampire elements in the overall design.
So that's a review of the Yu Zhong Mobile Legends skin survey that we have discussed. Hopefully this is useful and can be a good reference source for all of you. That is all and thank you!