The qualifying round for the PUBG Mobile Indonesia National Championship will begin immediately. There are 16 teams that will compete in the Grand Final of PINC 2020!
The highest tournament for the PUBG Mobile game was held for the past 4 weeks, which in that title presents the 16 best teams that will enter the next round who are ready to compete to get tickets to the Grand Final of PINC 2020.
The 16 Teams are ready to be the best team and prove themselves worthy to stand on a higher stage. So for those of you who are curious, who are the teams that pass the round, along with the teams that qualify and will compete in the Grand Final of PINC 2020.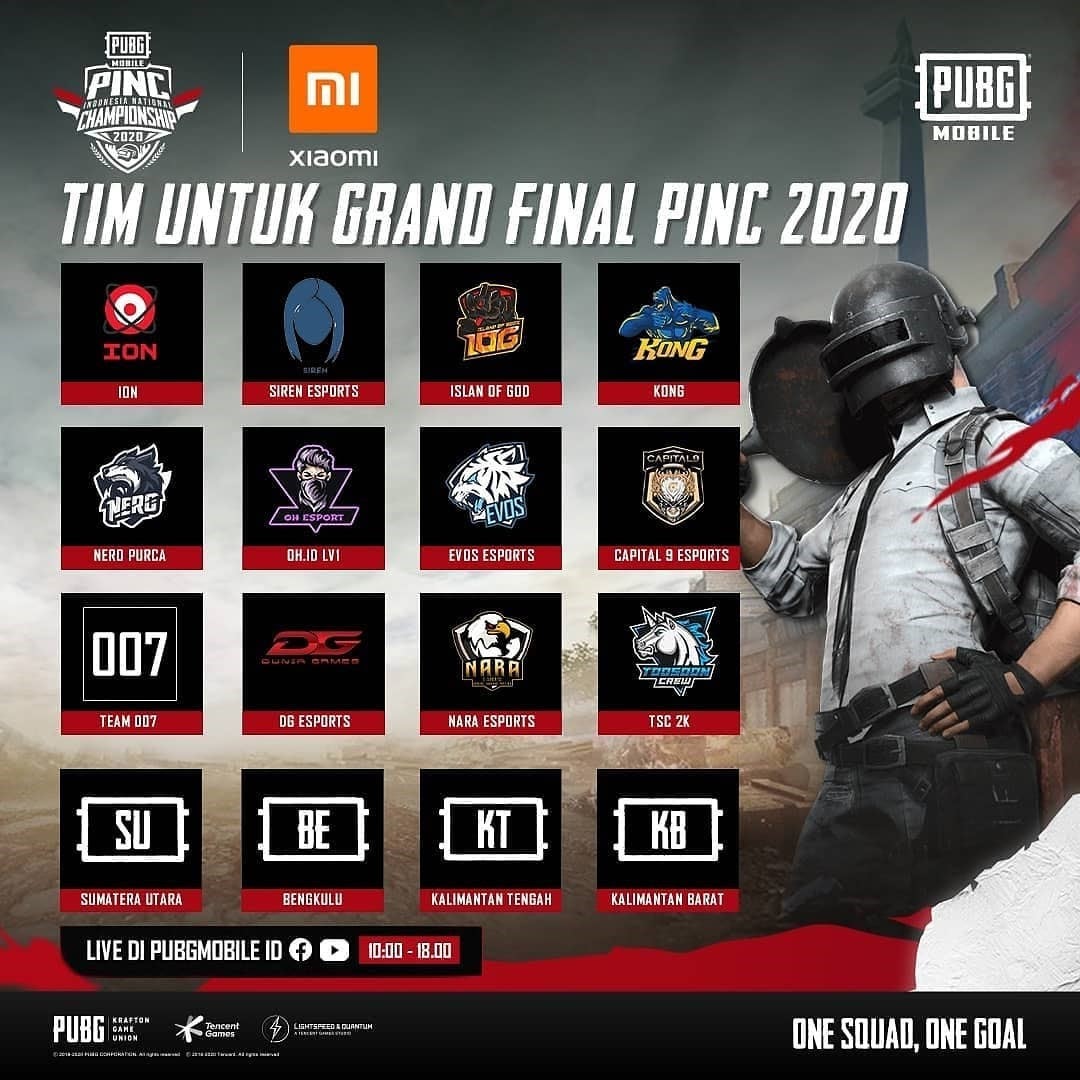 Bigetron IOS
ESports siren
Island of God
Kong
Nero Purca
OH.ID LV1
EVOS Esports
Capital 9 Esports
Team 007
DG Esports
Nara Esports
TSC 2K
North Sumatra
Bengkulu
Central Kalimantan
West Kalimantan
PINC 2020 is a PUBG Mobile match that will be held in Indonesia. This tournament was attended by more than 6,000 squads from various provinces in Indonesia in the previous year.
After going through a fairly long preliminary round, finally the 16 teams above who were the best were entitled to take part in the PINC 2020 Grand Final and only left 1 Squad who had the right to become Champion.
ALSO READ:
PUBG Mobile PINC 2020 schedule
After you know which teams will qualify and compete in the PINC 2020 Final round.
The following is the PINC 2020 schedule, which will be available in July 2020.
Week 1 – Squad Mode
Registration closes 10 June 2020
Technical Meeting 10 June 2020
Quaification 11 & 12 June 2929
Playoffs Livestreaming 20 & 21 June 2020
Week 2 – Squad Mode
Registration closes 23 June 2020
Technical Meeting 24 June 2020
Quaification 25 & 26 June 2929
27 & 28 June 2020 Livestreaming Playoffs
Week 3 – Solo Mode
Registration closes 30 June 2020
Technical Meeting July 1, 2020
Quaification 1 & 3 July 2929
July 4 & 5, 2020 Livestream Playoffs
Week 4 – Solo Mode
Registration closes July 7, 2020
Technical Meeting July 8, 2020
Quaification 9 & 10 July 2929
July 11 & 12, 2020 Livestreaming Playoffs
PINC 2020 Grand Final
PINC Grand Final 2020 – July 17, 18 & 19, 2020
Of course, there will be many teams who are favorites to become Champions at the 2020 PINC which will be held on the 17th to 19th.
Some of the teams we predict include EVOS Esports, BTR ION and also several other teams who top the squad qualification standings.
Not only that, there are also various other teams that seem ready to become black cats such as the KONG team, as well as the Kalimantan duo namely Central Kalimantan and also West Kalimantan who played very well in the previous round.
So what do you think of the 16 teams that will compete in the Grand Final of PINC 2020 which will be presented on July 17-19?
In the team above, which is your favorite team? Oh yeah, don't forget to follow our official Instagram at Esportsku (@ esports.ku) to get other latest information about PUBG Mobile games and other latest games. Stay Tune!