The Mobile Legends game is one of the best MOBA games on the Android platform until now. Lots of updates to other interesting features, so that the players don't get bored when playing the Mobile Legends game. On this occasion we will provide information about the best Mobile Legends Skin Couple.
Every hero in this Mobile Legends game already has their own skin, these skins have different levels with different prices. This skin has Normal, Elite, Special, Epic, Limited, Season, Zodiac levels and the most expensive skin is at the Legend level.
There are already many heroes and skins in this Mobile Legends game, there are even paired hero skins. This skin is usually called the Skin Couple, where there are 2 Hero Girls and Boys who have almost the same skin.
Gusion & Lesley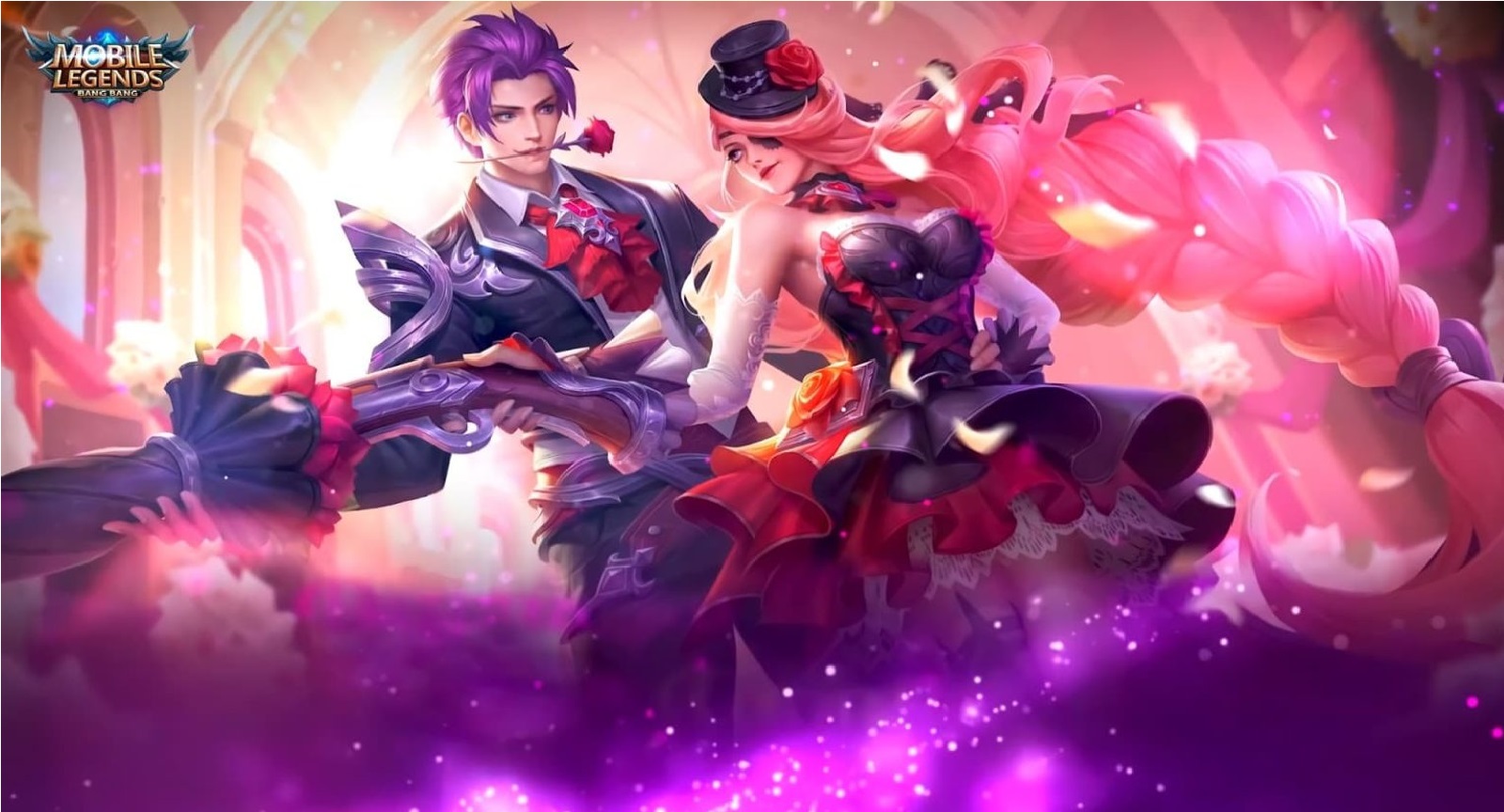 The first best skin couple are Gusion and Lesley. The two heroes were initially thought not to be a pair, but Moonton finally announced that Gusion and Lesley were a true love couple. Even though their Role is opposite, namely Assassin and Marksman, their love is radiated brightly in the Skin Couple.
Gusion and Lesley use clothes that are quite elegant, and are even very popular with many Mobile Legends players. This new ML Couple skin is here on Valentine's Day, maybe this skin will get a discount next month.
Lancelot & Odette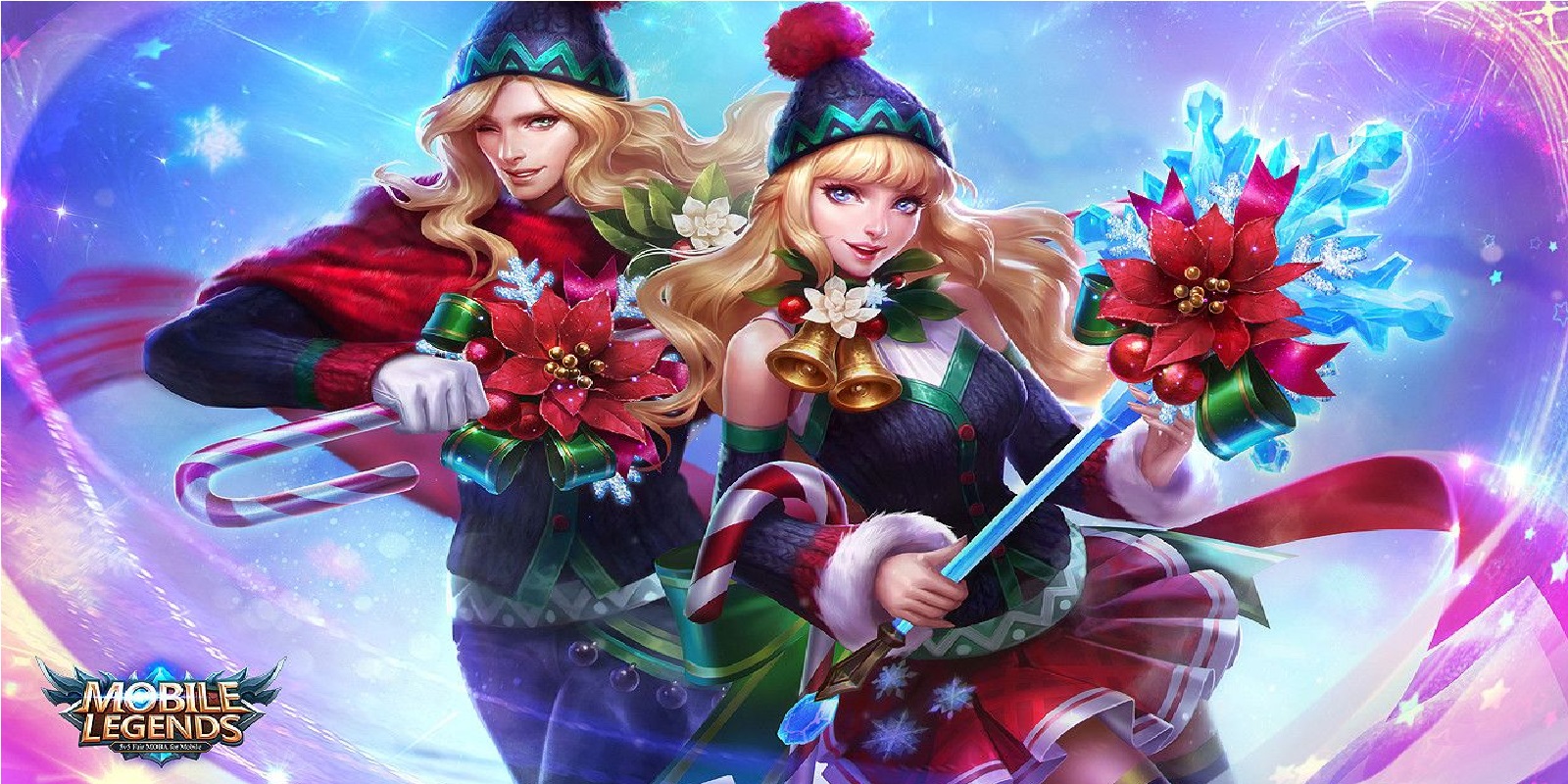 At the start of Lancelot's releases, she always said "Beautiful Odette" on her Voice Line. Many Mobile Legends players can immediately guess that Lancelot is Odette's partner. It turns out that this is true, in Winter, Moonton released the latest skin Couple.
This skin is given to Lancelot and Odette, they both become a perfect match. Lancelot and Odette wear warm clothes, at the initial appearance of this Skin Couple they both have released a strong Aura of Love.
Hayabusa & Kagura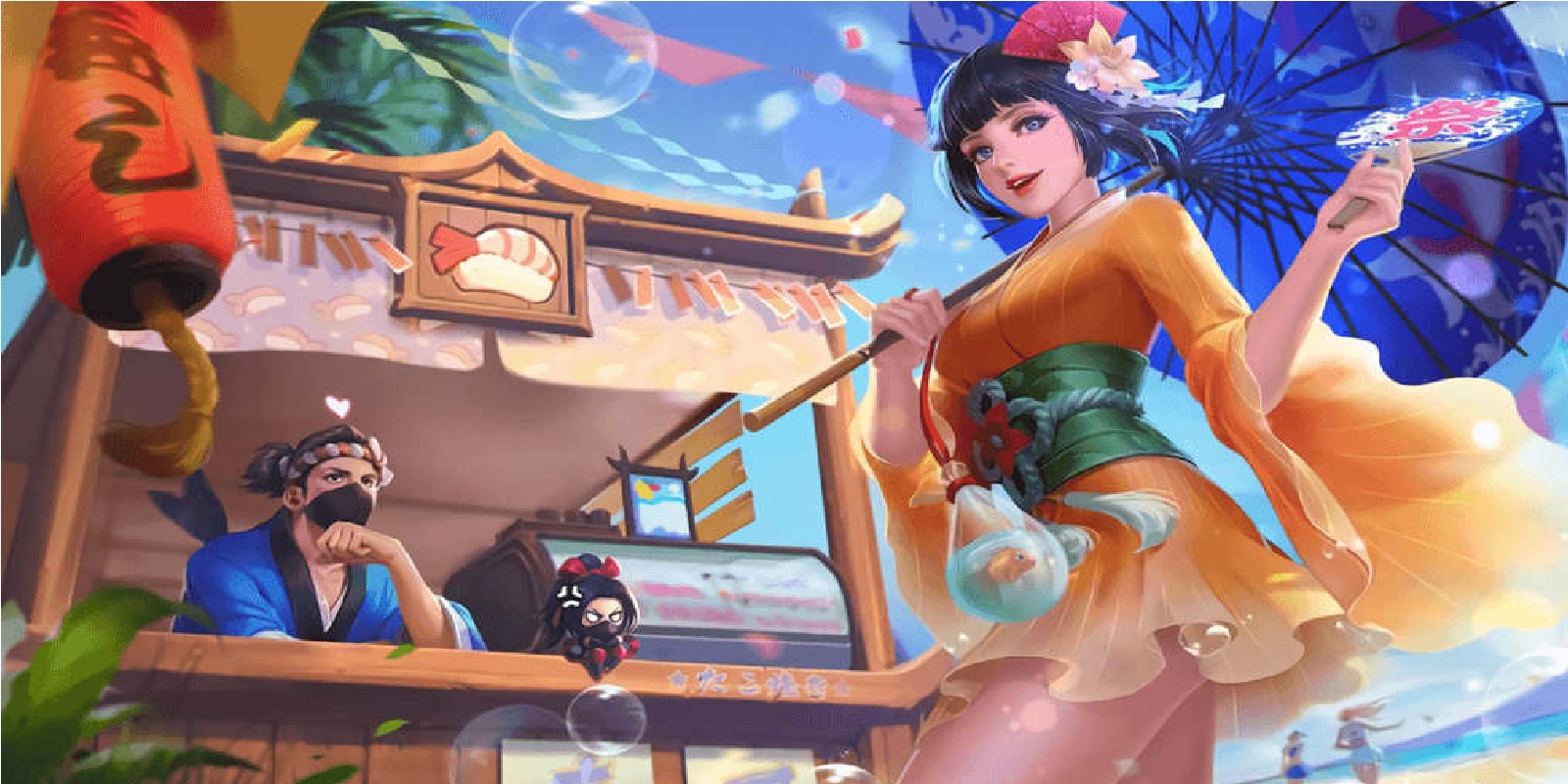 They both come from the same country, namely Japan. Hayabusa and Kagura initially had the same fate as Gusion Lesley, where no one would argue that they were not paired.
But all of that was finally answered by Moonton, so the new Mobile Legends Couple Skin Special Summer appeared.
In the new Skin Mobile Legends couple, they both wear Japanese summer clothes, for Kagura she uses yellow dresses. Meanwhile, Hayabusa wore the clothes of a tuna cutter, to be precise a sushi maker.
Alucard & Miya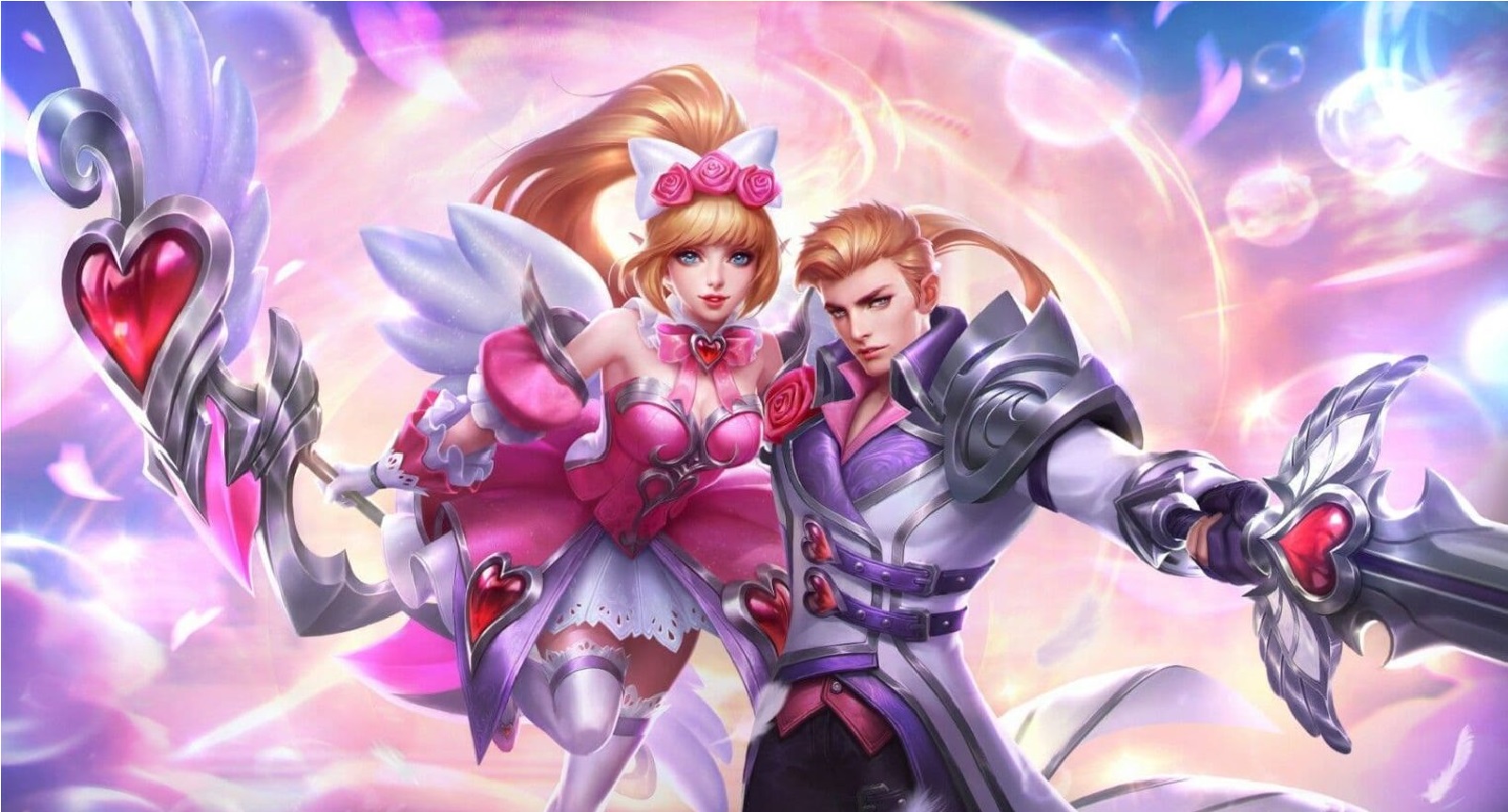 Heroes who have the best New Couple Mobile Legends Skin are Alucard and Miya. They both get a Skin Couple that is quite interesting, you could even say a pretty harmonious couple. In addition, both of their weapons use weapons that have the form of Love.
Now this skin is available on Valentine's Day, it will likely get the same discount as Gusion and Lesley.
Clint & Layla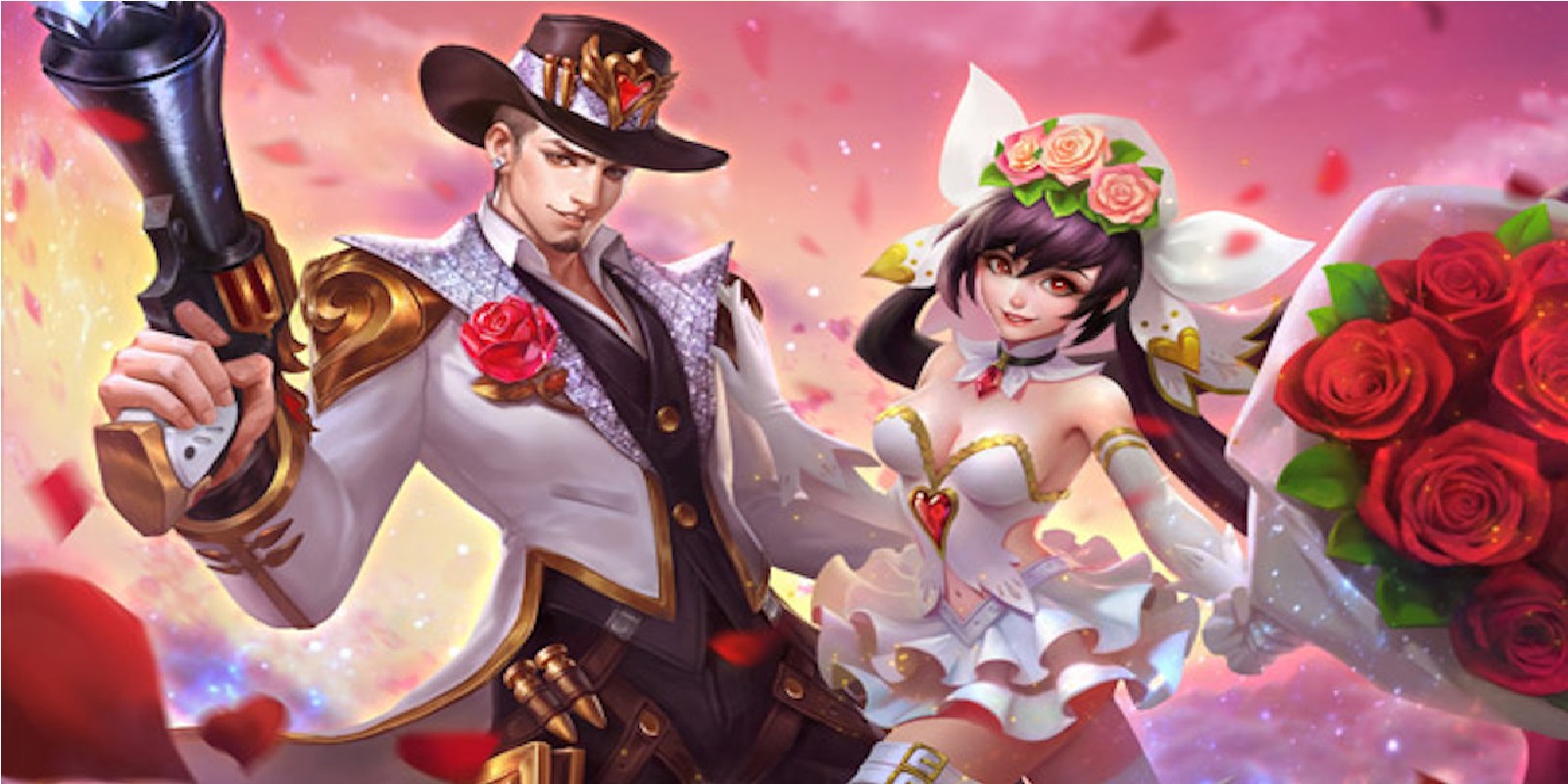 Clint and Layla are also a hero couple in Mobile Legends, these two heroes are marksman and get Valentine's skin called Guns and Roses for the hero Clint and Cannon and Roses for the hero Layla.
These two heroes have an all-white look with wedding dresses. Layla also holds a very large flower and Clint uses a rose accessory on her chest. These two heroes are indeed very suitable as a pair in Mobile Legends.
Claude & Fanny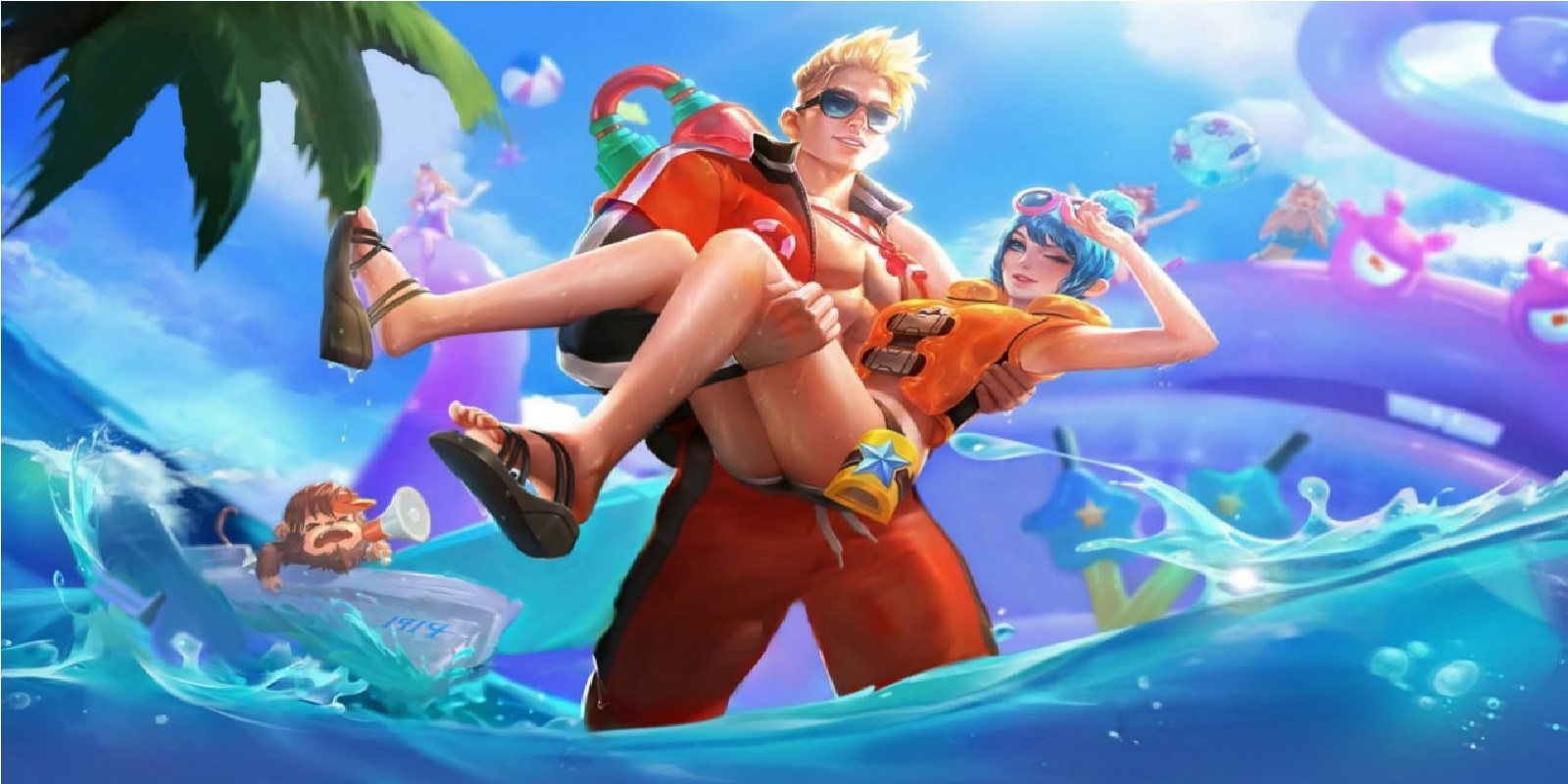 Last summer, Moonton presented his newest skin couple, which was given to the hero Claude and Fanny. These two heroes are the newest couple in Mobile Legends, Fanny is an assassin and Claude is a marksman.
But both skin Couples are suitable for use, especially for those of you who are Fanny and Claude users, it is very mandatory to use skins for your boyfriends in Mobile Legends.
Zilong & Freya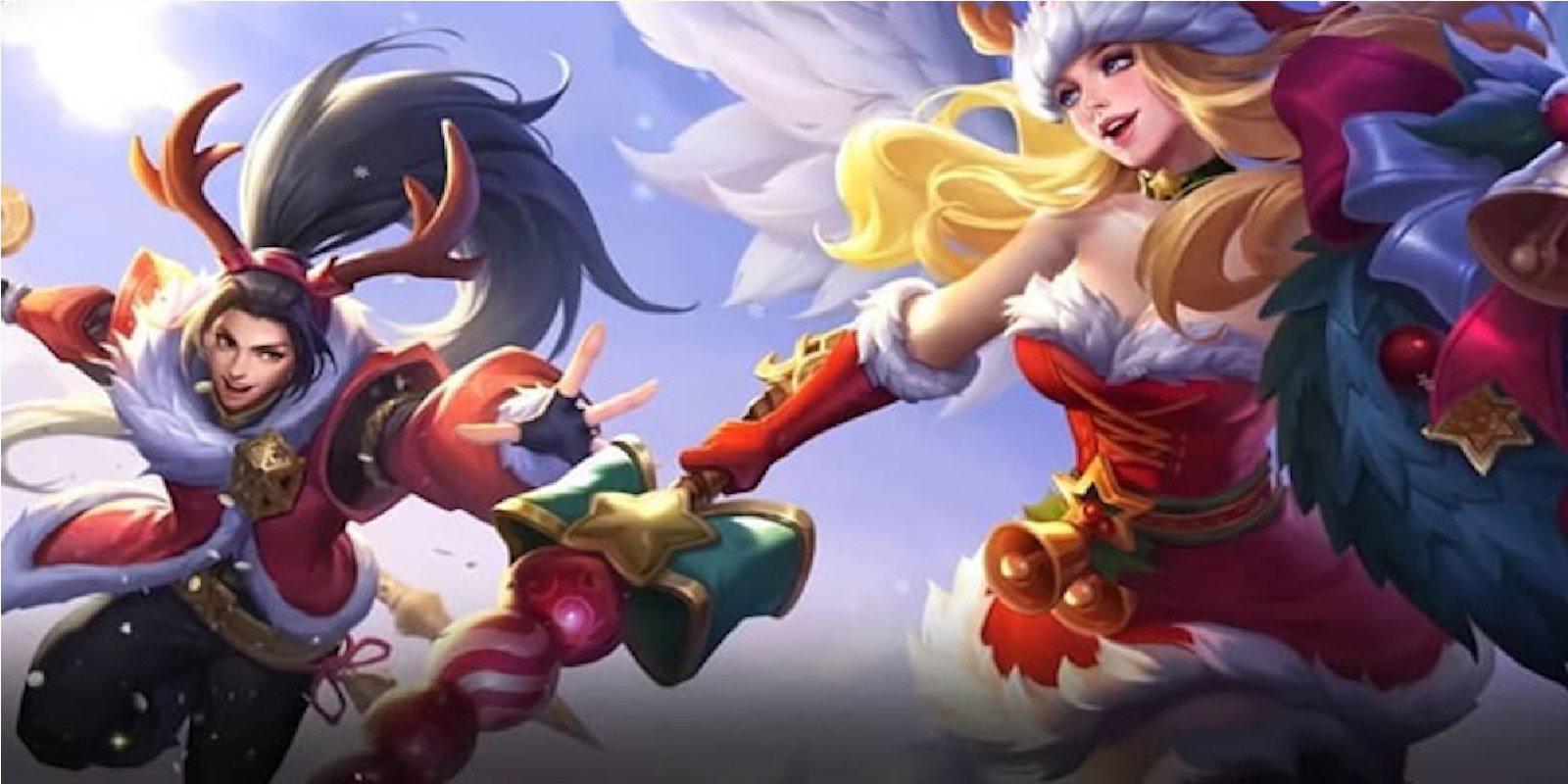 In the winter season last year, Moonton presented a skin couple for Zilong and Freya heroes, this skin is here at the end of the year as well as a special for Christmas. You can see Freya and Zilong who have matching skins.
Both of these skins are called Cristmas Carnival and have similarities in the motifs of clothes that are engraved specifically for Christmas and many others. Regarding the exact thing for those of you who are Zilong and Freya users, you must have this skin in Mobile Legends.
Khufra & Esmeralda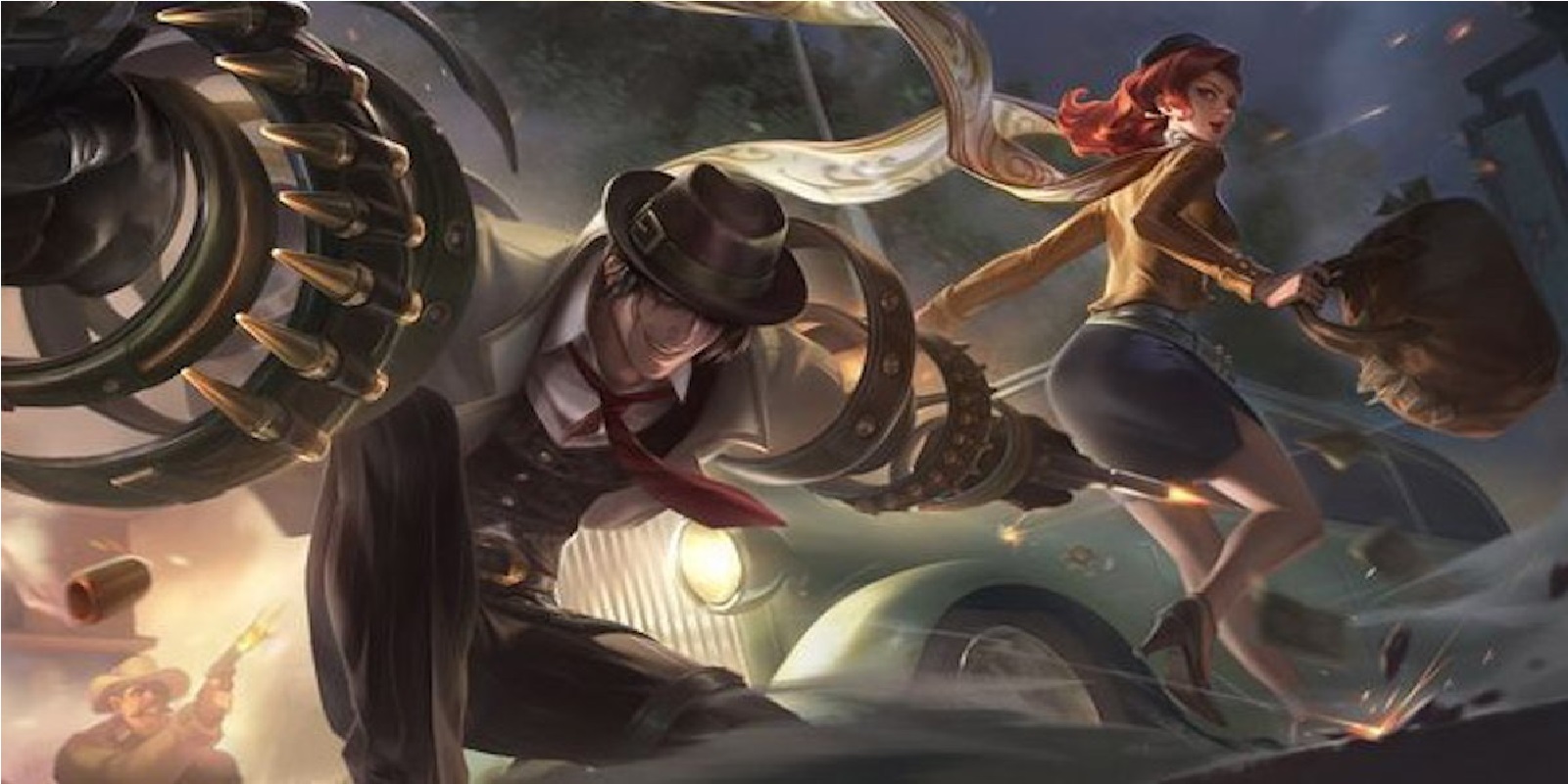 Next is the skin couple from Khufra & Esmeralda, these two tank heroes got their newest skins at last year's Valentine's Event. Both of these skins have a very attractive appearance and a theme as an agent. You can get it at a low price.
This Special Skin is called Gentleman Thief for Khufra and Esmeralda called Lady Thief. For those of you who are the second user of this hero, make sure to get a skin couple so you can play with your boyfriend in Mobile Legends.
Cecilion & Carmilla (Elite Skin)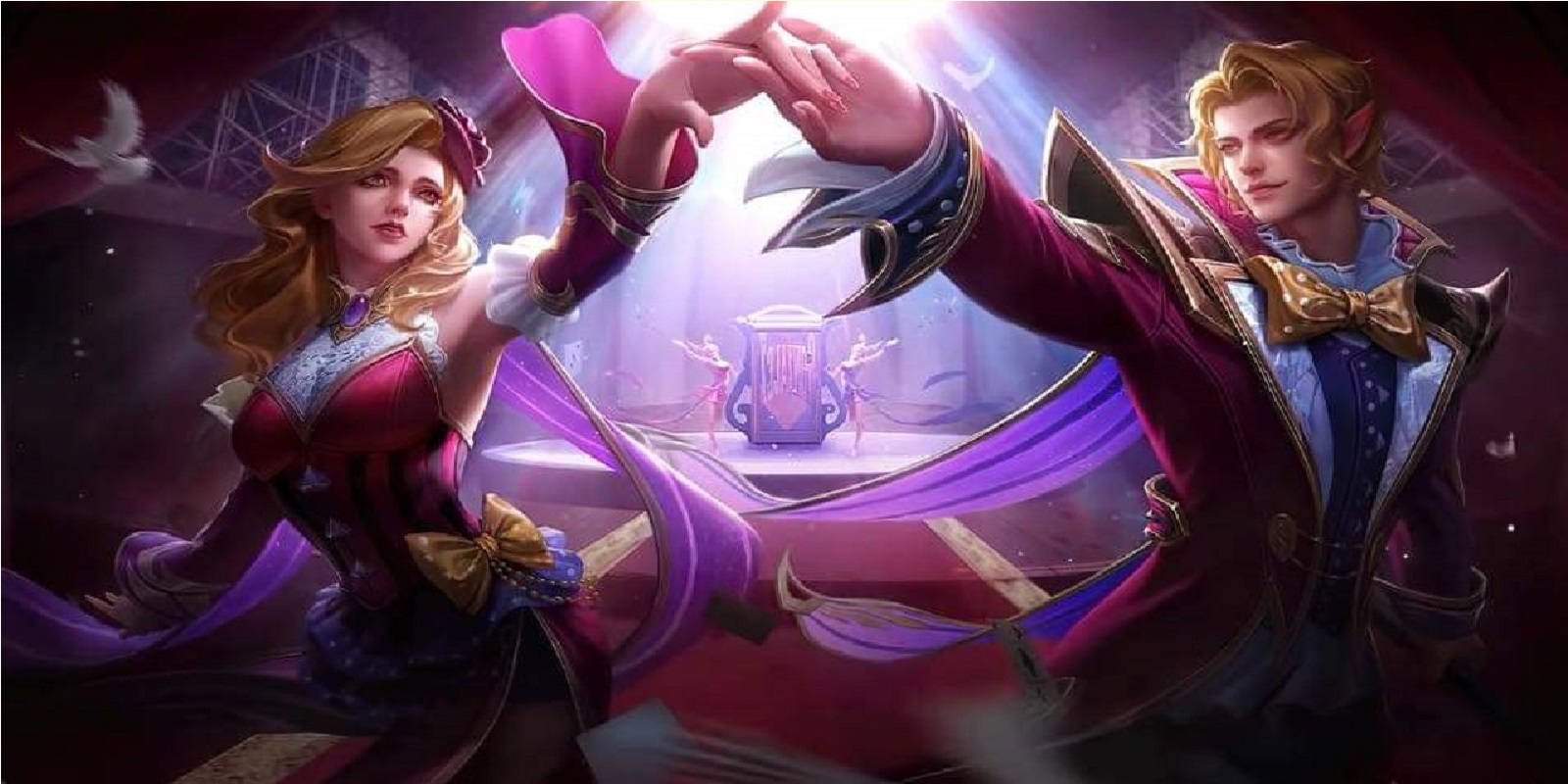 Cecilion & Carmilla are also a hero couple in the Mobile Legends game, this one hero has a very harmonious look for a couple. So even so, unfortunately this skin couple is included in the Elite skin on Mobile LEgends.
But even though it is an Elite skin, its appearance, design and effects are not cheap, these two skins have a very cool, beautiful appearance, without and suitable for you to use, especially for those of you who are a partner in Mobile Legends .
Cecilion & Carmilla (Special Skin)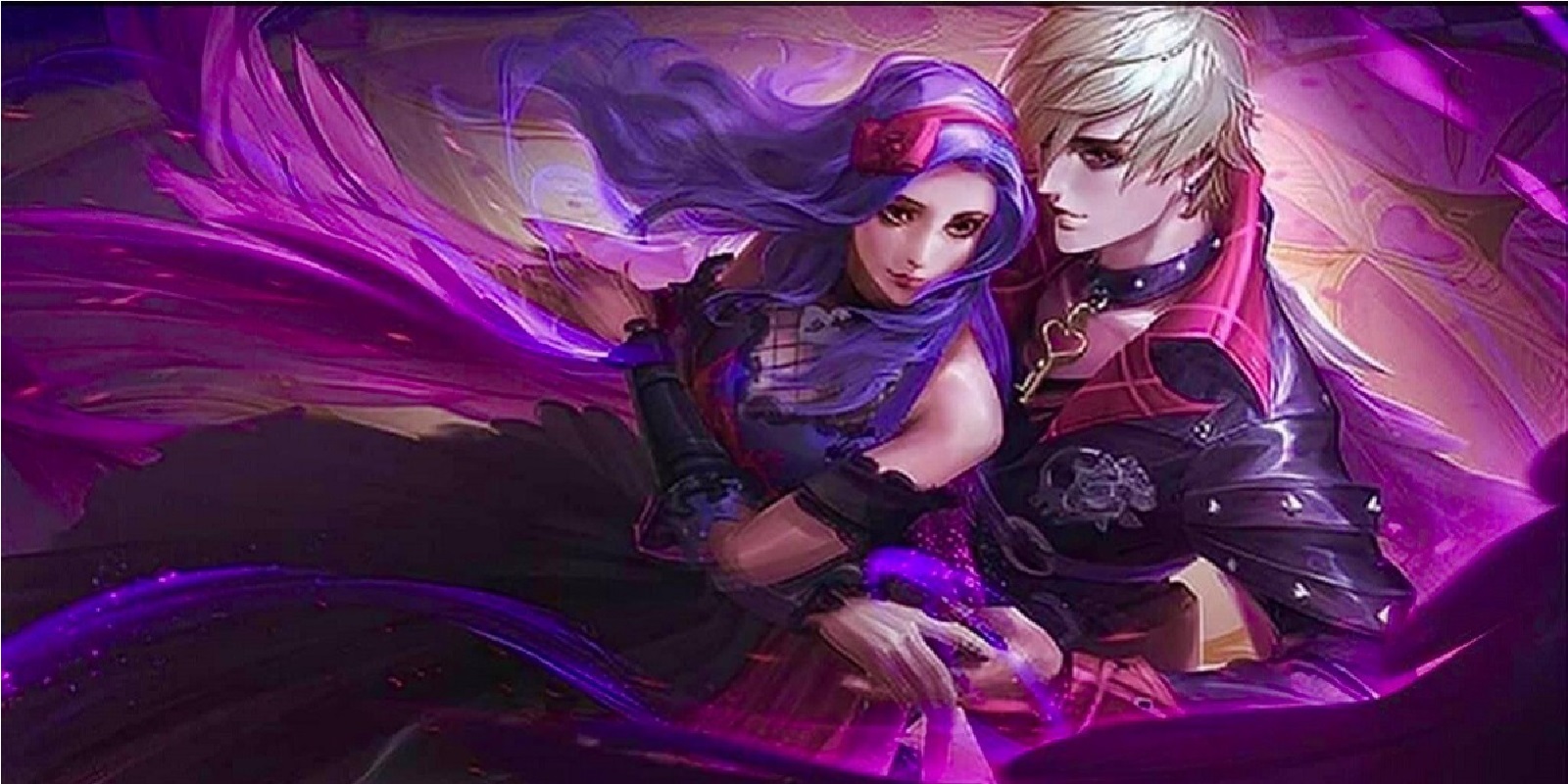 Finally, there are the second Cecilion and Carmilla skins, which are the latest Special skins that will be available on February 14, 2021. Yep, this skin will be included in Valentine's skin this year and is the newest in Mobile Legends.
As a good match, make sure you have the skins of the heroes Carmilla and Cecilion, to get them, you can buy them at the event that will be present on Valentine's Day.
Those are some of the best skin couples in the Mobile Legends game. Besides that, users of Khufra and Esmeralda will certainly be happy with this. Because the two heroes will become a harmonious couple, because they get a Skin Couple on Valentine's Day. That's all we can say, Thank you. Don't forget to keep practicing, play wisely and don't become a toxic player!
Don't forget to follow our social media on Instagram